10 Ways to Add a Kitchen Pantry
Tuesday, April 13, 2021
10 Ways to Add a Kitchen Pantry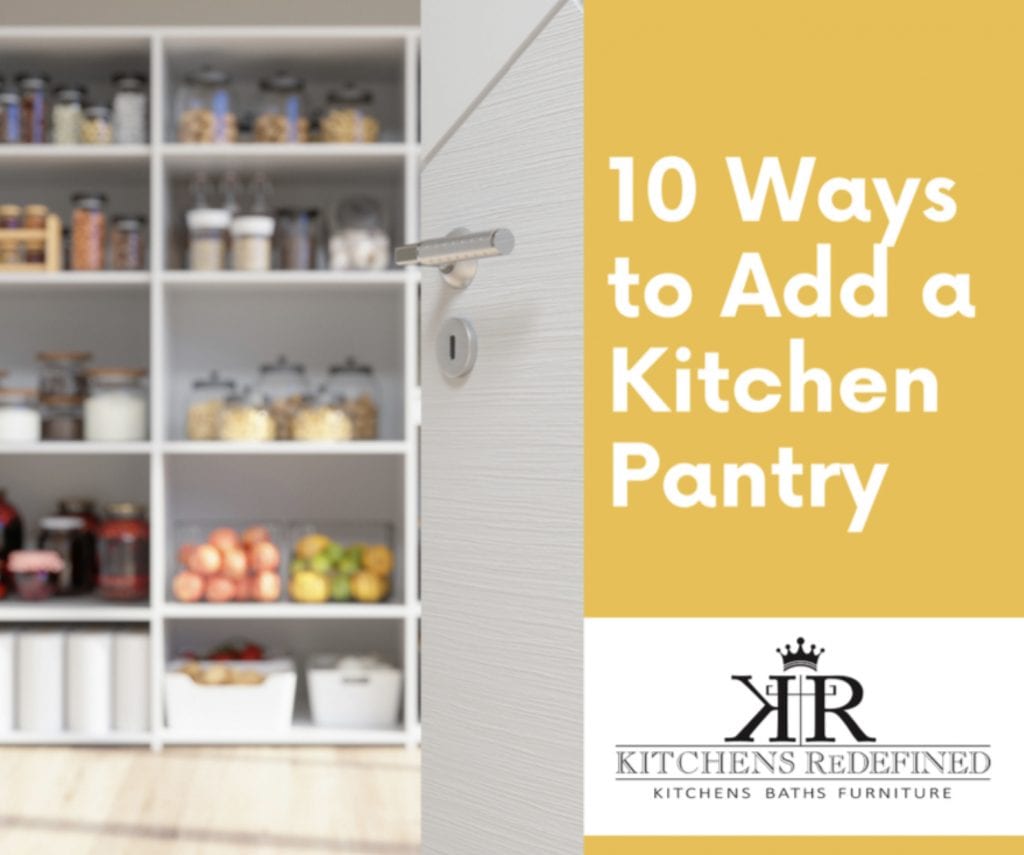 We have all seen the beautiful pictures of organized pantries. The benefits are apparent. We do not buy more than we need. We know immediately what we need to restock. We can throw meals together on a busy weeknight. Many of us think we do not have the option because of space limitations or cabinet configuration.
It is time to think again! A pantry can be attained in many ways. Better Homes & Gardens has 23 Kitchen Pantry Ideas for All Your Storage Needs to serve as inspiration. You do not need the space for a traditional walk-in pantry. Thespruce.com offers Kitchen Pantries: What to Know Before You Buy to cover some of the basics. Here are 10 creative ways to get the pantry you want and how Kitchens Redefined can help you get it!
1)
Build a Reach-In Pantry
A reach-in pantry allows you to utilize the space of a traditional cabinet. It gives you easy access and a quick view to your stored items. It is easy to keep organized because it uses shallow, angular shelving. It is a great option for a variety of kitchen styles and sizes.
Look around your kitchen for spaces that allow you to blend storage styles and create a small pantry.  You can define the space with custom-fitted upper shelving that can be hidden by mounted double doors. Thisoldhouse.com has a guide for selecting or building your ideal shelving in their article Read This Before You Put in a Pantry.
3)
Floor-to-Ceiling Cabinets
Take advantage of the space a floor-to-ceiling cabinet will give you. Upper shelves can be installed and used for items that get infrequent use. Shelves at various heights give you additional flexibility. You can store your groceries right in your meal prep zone. A floor-to-ceiling cabinet can replace existing cabinets and then be stained or painted to match.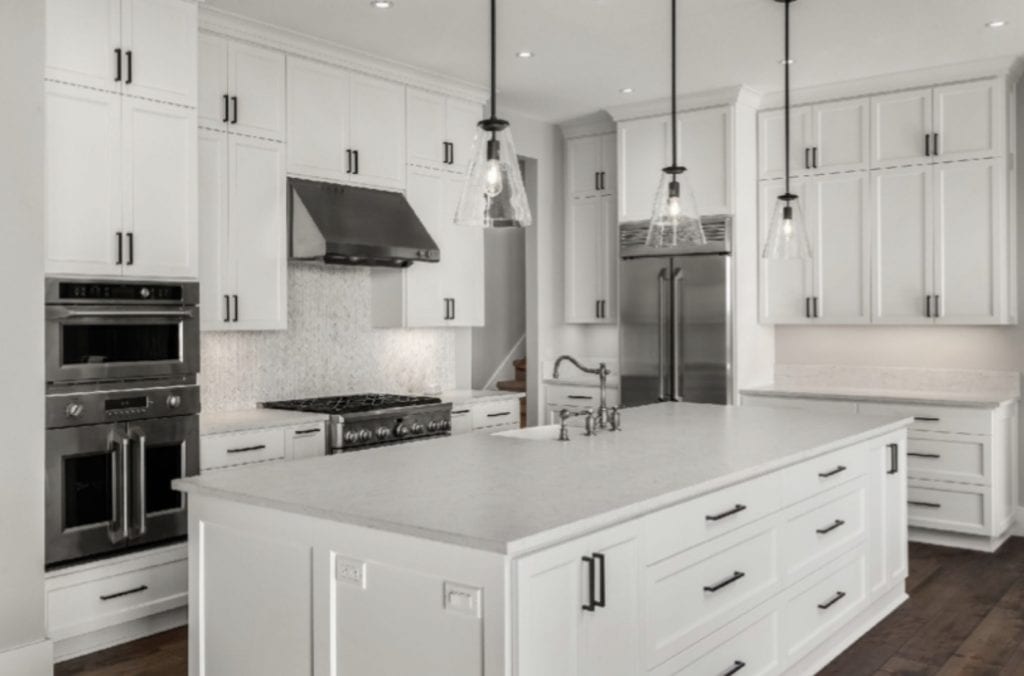 Many of us have space we can create on either side of our refrigerator. A tall, pull out pantry is a perfect option for that space. It can act as an extension of the refrigerator by keeping your dry goods and cold food storage all in one place. You gain the advantage of having all your ingredients in one spot. Kitchens Redefined offers Kitchen Pull-Out Cabinets in a variety of styles.
The pantry does not have to be in the kitchen. Nearby small rooms can be turned into a beautiful pantry. A small, hardly-used dining room can become a full pantry and additional prep space with the addition of a desk or rolling island.
A recessed cabinet will give you out-of-sight storage and can be designed to match the rest of your kitchen. You will not have to sacrifice square footage in the room or reconfigure your space. Many of us have an open wall available for this option.
A closet can be outfitted with shelving, cubbies, and even grab and go baskets to extend your kitchen storage. It does not even have to be in the kitchen. Adjacent closets in convenient spots can serve as kitchen pantries.
Replacing some upper and/or lower cabinets with deep, rolling drawers can create a different type of pull out pantry. You retain easy access to cooking staples and retain many of the advantages of reach-in and pull-out pantries. It can also be easily incorporated and matched to your existing kitchen.
A pantry can be fun. Think about getting funky by transforming metal lockers. Add a vintage furniture piece for shabby chic. Distressed wood and chicken wire can be made into a modern farmhouse pantry. The look can be free-standing or built in and add a design element and practical storage at the same time.
10)
Panel or Sliding Doors
Putting up panel doors or sliding doors can allow you to put a pantry almost anywhere and hide it in plain sight. Doors can be strategically hung over shelving systems to give you storage configured any way that you need it without having to keep it pretty.
A well-designed kitchen pantry can optimize your kitchen layout by adding storage and letting you consolidate everything you need in one location.  Kitchen Redefined is here to make your dream pantry a reality!
Call today for your FREE consultation: (402) 505-3381 or simply click here!