5 Easy Ideas to Transform Your Kitchen for Less Than a Remodel
Monday, December 14, 2020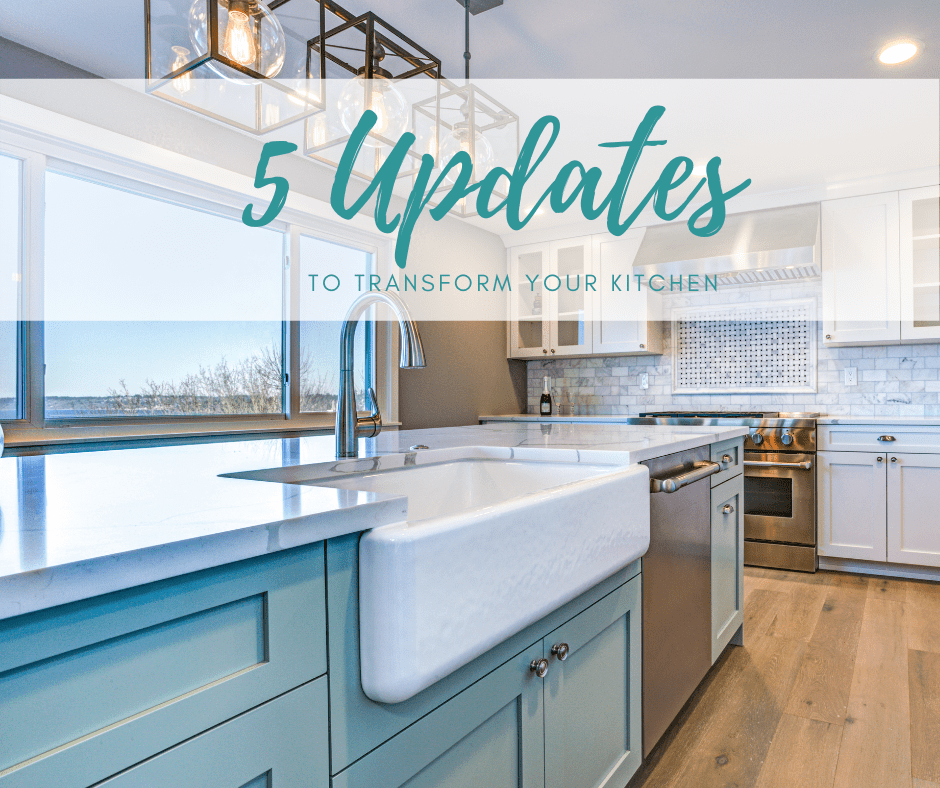 2020 is wrapping up and our minds are moving on to the possibilities that a new year brings! We have all spent record amounts of time in our homes and a large amount of that time has been in the kitchen.
The kitchen became an office, a classroom, and a gathering spot. It became a place where new adventures were launched. We all sat at a table at the same time as activities outside of the home became non-existent. The kitchen offered us a central place for a new level of family time we never thought we would experience.
All that time in the kitchen was great. It may have made us see things a little differently. A color palate that is a bit dated. Cabinets that are a bit worse for wear. Countertops that have a history of stains and scratches. Low or no lighting. Nowhere to put all the new stuff you got to launch all those adventures.
Let 2021 be your transformation year. The year of the fresh color palate. The year of the beautiful cabinets. The year of the amazing countertops. The year of the well-lit, organized kitchen.
1.

Reinvigorate

your

color palate
Your kitchen is fully functional and that is great. You step into your kitchen and it is partying like it is 1999. That is not so great. Bring it the 2021 party with a new color palate. Newdecortrends.com has an article on New Decorating Trends for Kitchen Colors 2021 that includes trends like two different tones of a core color, natural neutrals, warm earth tones, and intense shades.
Your cabinets are holding your things. They are also holding your kitchen in the past. Repaint them with your new color palate. If the style needs a boost first, replace the doors and then paint them! Hgtv.com outlines options for Updating Kitchen Cabinets.
Kitchens Redefined is ready to make your cabinet visions a reality with our cabinet solutions, including cabinet refacing and cabinet redooring and cabinet painting and cabinet refinishing.
3.

Replace your countertops
Your countertops are the victim of time, spilled wine, and possibly some direct knife work with no cutting board. You have run out of strategic ways to position your counter appliances and decorative bowls to cover the crimes. Hgtv.com has some suggestions for Updating Kitchen Countertops.
Let Kitchens Redefined turn back time and give you back the smooth, stain-free countertops you deserve.
4. Relight your workspace
Consider adding more functional lighting so you do not have to kneed in the dark and cook in a cave. Bobvila.com offers kitchen lighting design ideas in the article Solved! How to Coordinate the Best Kitchen Lighting Design.
5. Maximize storage
2020 has been the year of the new hobby. You now have a sourdough starter. You have acquired a love of baking. You have also acquired all the items that go with it. You make authentic Indian dishes. Your spices are spilling over.
It has also been the year of the kitchen as a hub for the home. It has served as an office and a classroom. You need places to store craft supplies and device charges.
Consider shelving solutions. Look at installing a new organizational system to maximize the space you already have. You want to get right to the baking and cooking without spending time gathering what you need. Kitchens Redefined has all your cabinet storage solutions to create a kitchen that works as hard as you do.
Kitchen Redefined is here to transform your kitchen!
Call today for your FREE consultation: (402) 505-3381 or simply click here!
Link 1: https://newdecortrends.com/new-decorating-trends-for-kitchen-colors-2021/
Link 2: https://www.hgtv.com/design/rooms/kitchens/updating-kitchen-cabinets
Link 3: https://www.kitchensredefined.com/cabinet-refacing-and-cabinet-redooring/
Link 4: https://www.kitchensredefined.com/services/cabinet-painting-and-cabinet-refinishing/
Link 5: https://www.hgtv.com/design/rooms/kitchens/ideas-for-updating-kitchen-countertops
Link 6: https://www.kitchensredefined.com/services/countertops/
Link 7: https://www.bobvila.com/articles/kitchen-lighting-design/
Link 8: https://www.kitchensredefined.com/services/cabinet-storage-solutions-for-your-kitchen/