5 Signs That Spell Remodel for Your Kitchen
Thursday, February 11, 2021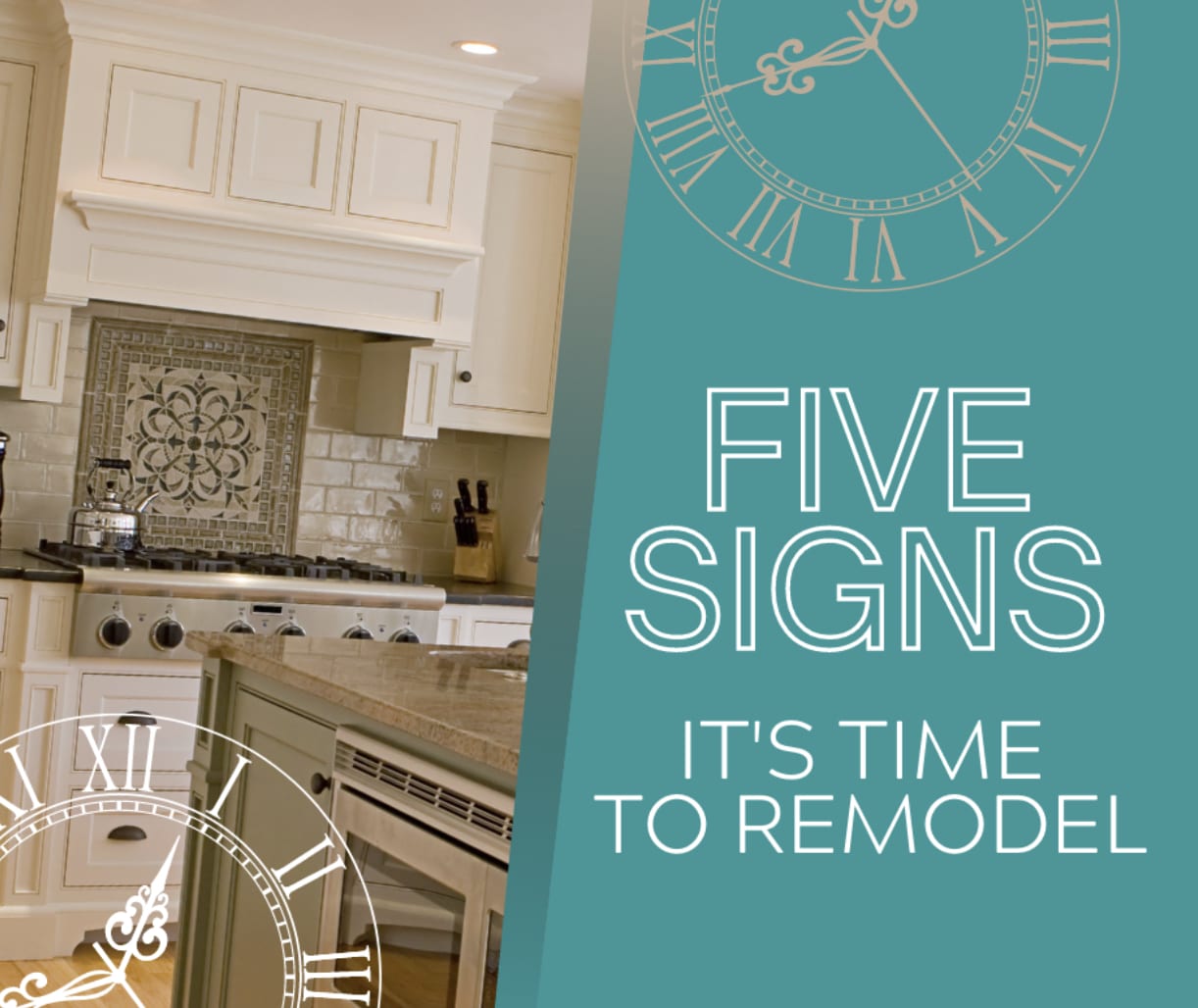 You know that you are no longer in love with your kitchen. You find yourself having your morning cup of coffee in your living room instead of at your kitchen table like the good old days. You formulate a plan. It is time to fall in love again. If you still love most of what you see, we have 5 Updates to Transform Your Kitchen. 
The 5 signs below, however, mean you probably need a remodel to spark that flame again.
Functionality
Your floor plan has you flustered. You feel isolated every time you step into your kitchen to cook. Your sink is in the wrong place for a quick vegetable wash. If your floorplan is an issue, an update will not fix it. It is time for a reconfiguration. Hgtv.com has an article that can get your ideas flowing with their Top 6 Kitchen Layouts.   
Storage
It does not matter how many times you watch shows on organization or invest in the latest system. You still have items overflowing due to a lack of real storage space in your kitchen. If you pare down anymore you will feel like you are back in your college dorm using one pot and a hot plate. If you cannot integrate storage into what you have, it is time to acquire a new system.  
The Cabinet and Countertop Test
Paint is wonderful. There is no denying that. There comes a time when paint just is not enough. If you are dealing with cabinets that are truly past their prime, in the wrong place, or simply absent because you do not have enough of them, it is time to invest in new ones.
Your countertop is dull no matter how much you shine it. It looks like a world map of past transgressions in the form of wine spills. The material is nothing you would pick today. You have no space to roll out pie crust and end up using your kitchen table. It is time for new countertops.
Future Value
You are not planning on selling your home any time soon. You do know that you would have concerns if you had to put your home on the market with your current kitchen. Investing in a needed kitchen remodel will add to the future value of your home. You can expect to recoup much of your investment and up your home's market value. 
Zillow.com looks at your ROI (Return on Investment) in their article Kitchen Remodel Return on Investment for Sellers. 
You can enjoy your investment now and be prepared should you sell in the future.
Happiness
This may be the most important sign of them all. You spend a lot of time in your kitchen. If you avoid cooking because your kitchen frustrates you, that can lead to a real impact on your personal well-being. Bustle.com provides 7 Surprising Ways Cooking Can Boost Your Mental Health.
Daveramsey.com offers these impressive statistics in their article, How Will Kitchen Remodeling Affect Your Home's Value?":
"What if you plan to enjoy the kitchen yourself? Having a kitchen that you love can impact your day-to-day life in positive ways. Of those who remodeled in 2017, 33% said they have a healthier lifestyle after renovating their kitchen.(15) Nearly 50% said they have more family time, and 41% said they cook more at home.(16) It's hard to deny those benefits!"
Remodeling your kitchen is not just an investment in your home. It is an investment in yourself. Start your journey with Kitchens Redefined Kitchen Visualizer for inspiration. We are ready to give you the kitchen of your dreams. 
Call today for your FREE consultation: (402) 505-3381 or simply click here!
 https://www.kitchensredefined.com/5-easy-ideas-to-transform-your-kitchen-for-less-than-a-remodel/
 https://www.hgtv.com/design/remodel/kitchen-remodel/top-6-kitchen-layouts
 https://www.zillow.com/sellers-guide/kitchen-remodel-roi/
 https://www.bustle.com/p/7-emotional-benefits-of-cooking-thatll-make-you-want-to-actually-use-your-kitchen-9957022
 https://kitchensredefined.quotekitchenandbath.com/kitchen#/visualizer