Find your Footing: 5 Floors to Consider for Your Kitchen
Thursday, September 30, 2021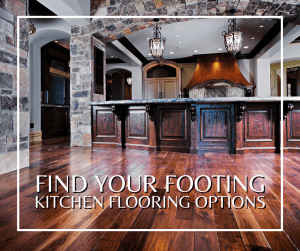 Your kitchen floor needs to do more than just look good. It has to stand up to the foot traffic in your kitchen, be resistant to stains, and most of all, be durable. The floor you choose for your kitchen impacts every other design element. Depending on your floor plan, you may also be choosing flooring for an entire level or need to consider how it looks with your other flooring.
HGTV.com  helps you Choose the Best Flooring for Your Kitchen and advises that you consider lifestyle, your style sense, comfort, ease of cleaning, and cost when determining what type of floor works for your kitchen. We are a long way from having limited options in flooring. 
1. Vinyl 
Do not dismiss vinyl. Vinyl can give you a high-end look without the high maintenance that can come with other options.  This is a material that is improving in quality with new technologies. It also offers a wide range of design opportunities that can work in a variety of kitchen styles.
You can get the look of wood flooring, polished concrete, and even stone or complex tiling. It is a great way to add a pop of color or stand out with a bold pattern. Get the modern stone look without the commitment. Homesandgardens.com has Vinyl kitchen flooring ideas-practical, easy to clean floors that emulate luxury materials for inspiration.   
2. Linoleum
Many of us equate linoleum flooring with vinyl flooring. The two are, in fact, very different. Linoleum consists of a more natural make-up than vinyl and has been in production for even longer. Advantages are durability, water resistance, easy maintenance, eco-friendliness, and an array of options.    
Sheet linoleum offers the largest variety of colors and patterns. It comes in jumbo-sized rolls that are suitable for covering large, open areas. Tile linoleum is similar to ceramic, porcelain, and stone tiles but offers a much more economical option. Click-and-lock is designed to be used as part of a floating floor system. It comes in tiles or planks and does not require additional adhesives.
Bobvilla.com shares 5 Little-known Advantages of Linoleum Flooring.   
3. Porcelain, Ceramic, and Stone Tile
Tile floors are a natural choice for kitchens. Tile withstands heavy foot traffic, spills, and does not absorb odors. It can be arranges in a wide array of patterns to go with any style decor. It comes in three types: Porcelain, ceramic, and stone. 
Ceramic and porcelain tile is very similar. Both come in glazed and unglazed finishes. Ceramic is softer than porcelain and slightly more prone to damage. Stone floor tiles are made from natural stone including slate, marble, and granite. It requires sealing and is the most expensive option.  
 There are some drawbacks to consider. Tile is a hard, unforgiving floor surface. This can impact you if you spend a lot of time prepping food and dishes will not survive a drop. There is higher maintenance because of grout. Surfaces can be very slippery when wet. If this is a concern, seek out slip-resistant tiles.
4. Hardwood
Hardwood flooring is a solid choice if you have an open floor plan and want a single type of flooring that extends beyond your kitchen. This is also a great way to match any existing hardwood flooring that you might have because you can pick a custom stain that is closest to your existing floor.
Hardwood combines durability with low maintenance. Properly finished hardwood flooring resists moisture from occasional splashes, but spills should be wiped up immediately.
Hardwood flooring comes as either solid wood or engineered wood planks. Engineered wood planks have a top veneer of real wood backed by a layer of plywood that makes the planks stable and the flooring less susceptible to humidity and temperature — a good kitchen flooring idea.
Any of these options are sure to result in the perfect kitchen floor for you. Contact the experts at Kitchens Redefined today and let us put you on solid footing! Call us at 402-505-3381