Five Fresh Takes on Cabinet Colors
Thursday, September 9, 2021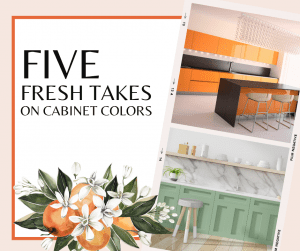 Cabinet color is an easy way to have fun, take a risk, or try a trend. All you need is a fresh coat of paint if you are updating existing cabinets. Even if you are thinking about a full cabinet refresh or looking at a replacement, you can make a choice that reflects your personality.
We tend to shy away from taking chances with our kitchen cabinets. Fortunately, there are plenty of options that will allow us to focus on living in our house and not just on resale value. If a full kitchen design is in the cards, think about bold expression with cabinets and making a safer play with countertops and backsplashes.
A White Palate Cleanser
We all know that white cabinets are a classic choice. Goodhousekeeping.com offers 27 Stunning Kitchens with White Cabinets. The impact of white can be played with based on what combination you have it interact with visually.
White-on-white conveys something much different than white paired with bold graphics. Many design options allow this "palate cleanser" to play against dark countertops or tropical appliances.
Goodbye Blue, Hello Green
We are falling in love with all things green. It is a color family that has everything from earthy to minty. It is nature's complimentary color. Green can support any color you pair with it. You can change it easily with the seasons.
Olive can convey rustic. Mint can convey modernity. You can even pick  teal green if you are not quite ready to abandon blue. It is the response to draining modern kitchens of all color and a charming way to play with something different on the spectrum.
Purewow.com says This is the Hottest Color to Paint Your Kitchen Right Now. 
Think Pink
This is not a choice for the faint of heart. However, pink is many people's happy color. It can be a neutral pastel or a bold rose. It can lend itself to glamour, classic colonial Spanish, or beach vibes. It does not have to stay in the femine realm either.
Pink is all about what you pair with it. It has really become a new neutral. Apartmenttherapy.com has 20 Pretty, Picture-Perfect Pink Kitchens for inspiration. Pink naturally brightens up a space.
Redefine Neutral
Neutral does not always have to mean beige or white. Bhg.com offers 19 Popular Kitchen Cabinet Colors with Long-Lasting Appeal.  Shades of gray or creamy yellows can just as easily serve as your "neutral" palate. Consistency is key to conveying a color as neutral.
Do not abandon darker shades because you think they cannot be considered neutral in your kitchen design. Darker shades of color like charcoal gray can serve as a bolder neutral palate. You can reverse-engineer the white cabinet pairing with dark countertops to stunning effect.
Go Natural
Your color inspiration may not involve paint at all. It may involve stripping cabinets down to their natural state. White washes, stains, and distressed looks are all possibilities as well.  There has been a resurgence of natural wood in modern kitchens.
There are also eco-friendly finishing options like cork board and reclaimed wood to freshen cabinet fronts in place of paint. You can change the look of cabinet doors without a full replacement.
Embrace the idea of allowing yourself to go in whichever direction your heart takes you when it comes to cabinet color. You deserve to see your version of beauty when you walk in to your kitchen. After all, it is the heart of the home. You should love it!
Contact the experts at Kitchens Redefined today and let our design team bring your color vision to life! Call us at 402-505-3381