Get the Look: Modern Farmhouse
Thursday, April 14, 2022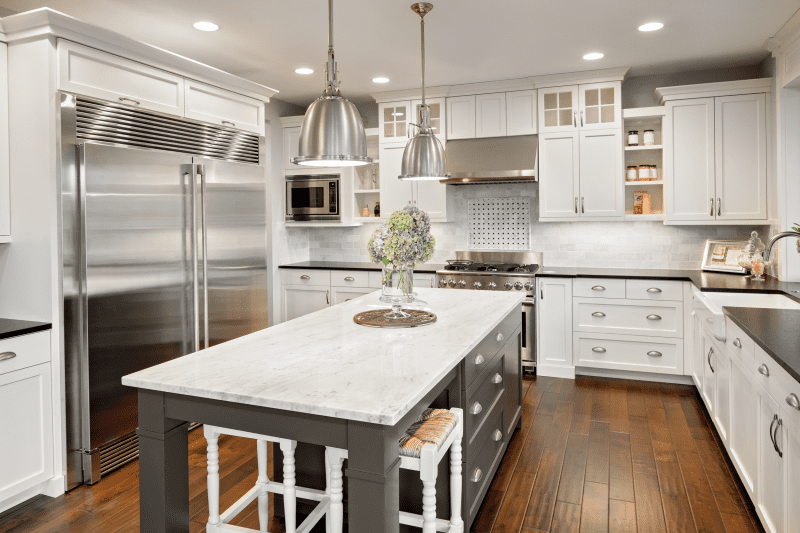 Joanna Gaines is synonymous with the idea of Magnolia Farmhouse style.  She spun the classic farmhouse style, which leans more on the side of warm tones and neutrals, and incorporated modern farmhouse elements, bringing in more whites and bold elements. The result is an elevated farmhouse style that still retains the inviting warmth of the classic design elements.
This less rustic approach makes the design feel right at home in any style of house. The emphasis is on a celebration of old and new working in tandem. It allows you to have the feel of a country home without sacrificing the practical. Housedigest.com delves deeper with What Is Modern Farmhouse Style?
Keep It Light
A Modern Farmhouse look should start with a color palette of cool neutrals. This is the key to elevating the look and playing up textures, contrasting elements, and accent pieces. Use a cool white such as Sherwin William's Pure White SW 7005.  Sherwinwilliams.com has their Finest Whites & Neutrals ready for you to pick a cool neutral like Silverpointe SW 7653 or On The Rocks SW 7671 to go with your perfect white.
You do not have to be void of all color but in order to stay true to the look, you do want to avoid large areas of bold color. Save colors that you are found of for accent pieces. You can also look to add the color in some vintage accessories
Black and White
You can use your countertops as a contrast element to play off the neutral palate. If you chose to go this route, consider solid black granite or a flecked black granite that retains a darker look overall. If black countertops are too much for you, consider a dark gray.
If you want to keep the countertops neutral, stay with a solid white or primarily white countertop. Look for patterns that incorporate other cool, neutral colors like light gray and sage green. Avoid any pattern that is too bold or high contrast as that will fight with the look of your kitchen.
You can also mix and match! Think about using a black countertop on a large island and white or neutral colored countertops for the rest of the kitchen.
 Wood Is Key
Incorporating natural wood elements is a must. There are a variety of ways to make this happen. Any of us that are familiar with Modern Farmhouse style have heard the word shiplap! It has become a must have decorating material for the modern farmhouse style. Thespruce.com tells you Everything You Need to Know About Shiplap Wood.
You can use reclaimed wood as an accent wall, as trim for doorways and windows, as shelving, and even as your backsplash. Consider accenting the front of an island with it or using it to create a beautiful hood. It will bring in the inviting texture and warmth that take the look from just modern to modern farmhouse.
Finding Balance
Finishing touches are the key to finding balance in the ModernFarmhouse kitchen. Wood elements, metal elements, vintage accessories, and furniture should work together to elevate the design. Resist the temptation to add too much to the mix! You want to bring in enough texture and color to avoid making the space look flat, but not so much that it looks kitschy.
It is best to mix no more than three metals for lighting, faucets and hardware.  Use organic materials like stone, wicker, rattan, and sisal. Furniture should be inviting and comfortable. Think vintage, not stuffy antique. Nothing should feel off limits or like it could be ruined with use.
Our design team is ready to give your home a warm, welcoming modern farmhouse kitchen that strikes the perfect balance!
Schedule your FREE consultation today!