Kitchens Redefined – Design Your Virtual Kitchen or Bathroom
Friday, July 10, 2020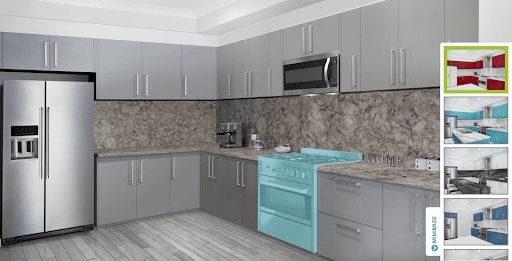 Design Your Virtual Kitchen or Bathroom
Kitchens Redefined – Design Your Virtual Kitchen or Bathroom
Remember in the infamous 1995 movie, Clueless, when Cher is picking out her outfit for school, and she sits at her computer and uses a clothes program to create her dream outfit?
Well, today, you can design your kitchen or bathroom from your computer just like Cher did her outfits!  Imagine curating your perfect style by combining textures, colors and products together until you have the perfect design without the expense of making rushed design decisions.
According to Inman, the top most common rooms for remodeling in a home is the bathroom with 81% and the kitchen with 78%. Also, if you're remodeling your home for resale, the best return on your investment will come from focusing on bathrooms and kitchens, according to Jonathan Self, a realtor at Center Coast Realty in Chicago.
The ability to virtually design your kitchen or bathroom can make remodeling a smooth and enjoyable process, you play with many different styles before you make any sort of commitment. You're a few clicks away to creating the exact kitchen or bathroom you have always dreamed of. The virtual design program allows you to experiment with all genres of designs or visualize simple changes like a new color scheme to reflect a current trend or to see if brass fixtures would look better than your current nickel ones.
According to HomeAdvisor.com, on average, a kitchen remodel costs $25,086 or $150 per square foot. Most homeowners spend between $13,081 and $37,092 or $75 to $250 per square foot. The total expense varies on the size of the space, quality of the materials, and the layout of the room. A smaller project between $10,000 and $15,000 may include painting walls, cabinets, upgrading the sink, and installing a tile backsplash. A $30,000+ renovation may include installing custom cabinets, hardwood floors, granite counters, and high-end appliances.
According to Angie's List, the average bathroom remodels fall between $9,600 to $11,000 in costs. A low-end remodel costs typically around $2,500, while high-end remodels cost around $23,000.   
It's a financial commitment to remodel your kitchen or your bathroom. The virtual designer will help you notice something you don't like before you commit to it. A virtual designer will save you money and help you confidently decide what you want and avoid having design remorse!
Now only will it save you money but also time.
Kitchy Crouse of KC Interior Design in Cardiff by the Sea, California says, a regular kitchen renovation can take from 6 to 12 weeks depending on what is being done, not including the planning and design phase. That can add another 2-4 weeks.
While planning your new renovated kitchen or bathroom takes time with planning, designing, and contractors, a virtual room designer can reduce that time and make your dreams come to a reality much quicker. You will also have a clear idea of what you want without wasting unnecessary time. 
Not only does virtually designing your own kitchen or bathroom help you save money and time, but it also allows you to play around with all sorts of designs and figure out what works best. 
A virtual designer will visually help you bring your Magnolia and HGTV binge watching inspirations to real life before making any sort of commitment. It gives you room to try out different types of colors, styles, and designs and see the results before you actually buy anything or start renovating. 
Designing your virtual kitchen or bathroom will ensure the process of remodeling goes as smoothly as possible, allowing you to have the kitchen or bath of your dreams.
Kitchen ReDefined has worked with hundreds of homeowners to make their renovation projects come to life. We will provide you a stress-free experience, so please contact for free quotes today. Try out the Kitchen Visualizer, Bathroom Visualizer and Instant Countertop Quote today!