From Outdated to Outstanding – An Omaha Kitchen Makeover
Wednesday, June 16, 2021
From Outdated to Outstanding
An Omaha Kitchen Makeover
Melisa and her family were dealing with an outdated kitchen. This is a frustration that many of us are dealing with in our homes. There was wasted space above the cabinets, the kitchen was cut off from the rest of the house and the tones were too dark. She could see the potential her space had and she knew the Kitchen's Redefined team could make it a reality.
Without wasting much time, Melisa came to Kitchen's Redefined for a kitchen makeover that would not only work for the immediate needs of her family of three growing boys, but would grow with them as a family over the years.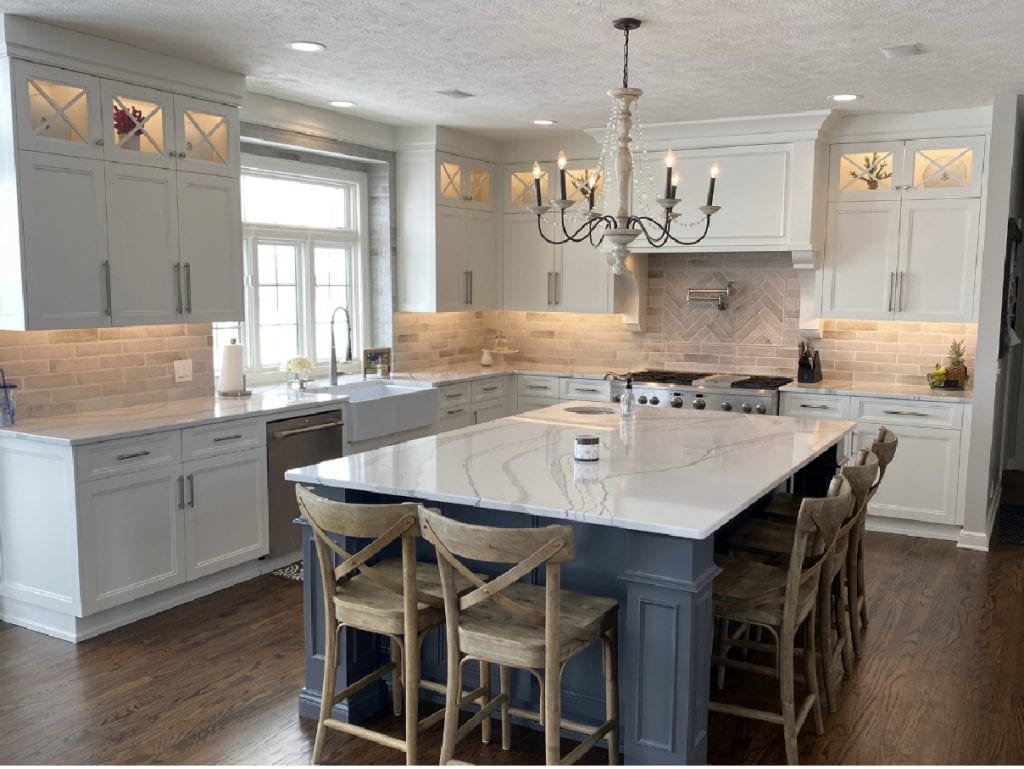 Melisa worked with Kelly King at Kitchen's Redefined over several months. She knew that she wanted to completely tear out the existing kitchen and develop a floor plan that would utilize the space to maximum advantage. "Kelly and his team were always organized, always on top of communication and handled every detail seamlessly," said Melisa. From start to finish, the project took from March to July of 2020.
With specific design ideas in mind, Melisa came to Kelly's team with her kitchen goals and the process began. She wanted the largest island she could get without a seam in it and she wanted a prep sink in her new work space. As a mother of young boys, she needed all the space for homework, meals, and more that her island could allow.
She wanted the new farm sink moved to an exterior wall, a large, new oven so she could cook for her growing family and a design statement hood over the stove. Melisa shared that some of her favorite details are the ones you can't really see. "I have hidden space for all of my appliances, a beverage entertaining area and a water spigot for my coffee pot!"
She selected a mix of white and gray color palettes for her design. She needed to determine what elements were going to be white and what elements were going to trend from light to dark gray.
With help from Kitchens Redefined, she selected Dove White for her cabinets to bring the light into the space and Peppercorn Gray for her huge center island that grounded the space. Kelly and Melisa worked together to find the perfect countertops. The softer look and better flow of veining in Britannica quartz was the definite winner. It complimented both the white and the gray paint colors.
She had always wanted a tile brick look for her backsplash, but the color variations in her tile made grout selection a struggle. She ended up with a warm grout that complimented all of the colors in her tile and countertops. This brick look backsplash is especially highlighted around the stove in a herringbone pattern that brings attention to the stove and pot filler.
Melisa thought she was going to end up with light gray floors until she saw the samples that the Kitchen's Redefined floor refinishers left for her. She ultimately liked the darker custom mixture of darker brown and gray in wide plank boards.
The kitchen has much more organized storage space, including a whole new wall of cabinetry and small, lit, display cabinets above the upper cabinets to give warmth and personality to the kitchen.
"Overall, I am just thrilled with my kitchen. Kelly and his team at Kitchen's Redefined were a great fit for me. Everything went smoothly and was done on time."
For more information on updating your kitchen, contact the experts at Kitchens Redefined today! Call us at 402-505-3381.