Get the Look: Mid Century Jewel
Tuesday, March 22, 2022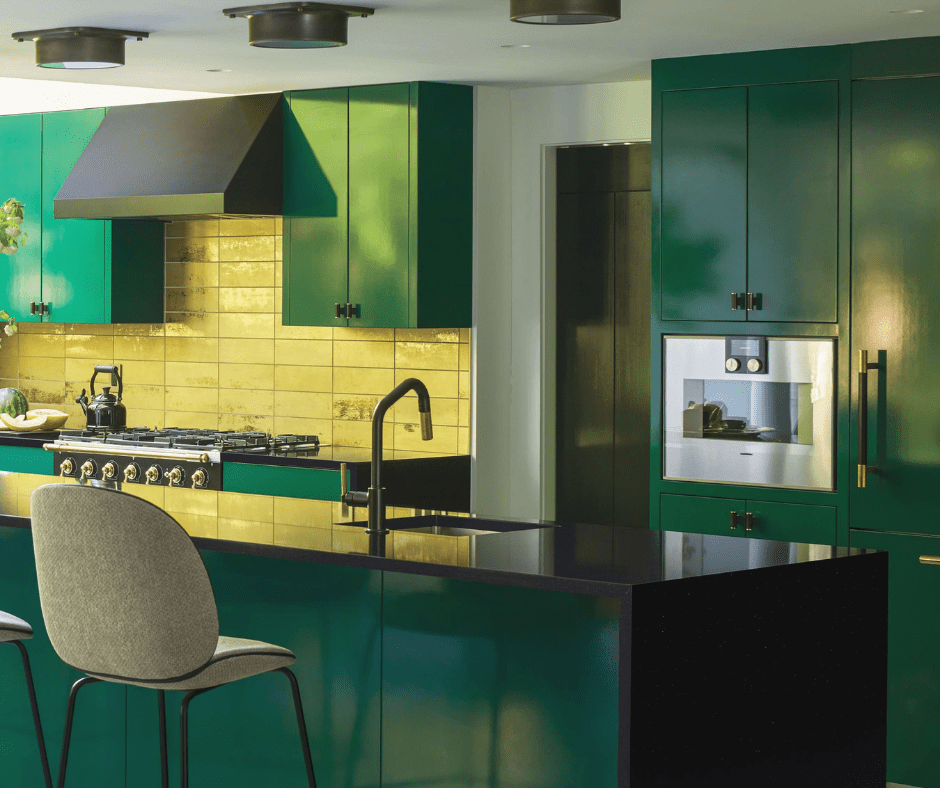 Get the Look Series:
Mid Century Jewel
Our third installment of our Get the Look Series, we show you how to achieve a stunning and dramatic Mid Century kitchen.  We don't shy away from color this time and it creates a modern kitchen with classic lines that is timeless.
It is characterized by clean lines and warmth that is created with the use of natural wood and areas of saturated color or graphic pattern. Achieving this aesthetic means making the right choice in your foundational pieces and accents.
While there are many takes on mid century and what that means, the focus on creating a mid-century jewel is about bold color, metal, fabric, and gloss. The right combination in the right places will take all of the clean lines of this timeless classic and give it an on-point elevation. This design stays true to its mid-century modern roots while becoming its own creation.
Color Take: Jewel Tones
The "jewel" in this mid-century crown is created with a carefully curated cabinet color. Jewel tones mean exactly that: emerald greens, sapphire blues, and ruby reds should saturate cabinets with color, setting off the clean, modern cabinet lines. Sherwin Williams Lucky Green SW 6926, Hyper Blue SW 6965, and Radish SW 6861 are all great choices. Benjamin Moore also offers a guide for Adding Jewel-Toned Paint Colors into Your Space.
This flies in the face of the typical cabinets in a mid-century modern kitchen. After all, warmth is usually created with natural wood. That warmth will be pulled in, to be sure, but it will come from elements that are in natural tones rather than from wood cabinets.
Counter Tops
This is where the gloss happens! Counter tops should be dark and glossy. Cambria offers a high gloss finish that is a stunner that will support this design choice. Think about Cambria Black for the color. Black gloss will naturally create the clean lines you need for a mid-century kitchen. Think of it in the same way that you would in picking a frame for a modern piece of art. Simple black lines elevate the look without becoming it.
If you are not sold on a solid black, think about staying with an overall black countertop with subtle variation. Cambria Black Rock, Montana Midnight, and Kentucky Coal are all great choices that are available in a high gloss finish. Strong patterns should be avoided.
Back Splashes
Now is the time for metal. A metallic backsplash is the natural choice when thinking about a jewel. There is also no reason to limit yourself. Hgtv.com has options to present for Metal Tile Backsplashes. They are available in a wide range of materials, styles, colors, and patterns.
One of the most commonly used is stainless steel. A common feature of modern appliances, stainless steel offers a bright and easy-to-maintain surface as well as great durability and no, it does not have to look like stainless steel. It is available in a wide range of colors and textures, including shiny or matte finishes.
Tin is another common metal backsplash tile choice. Punched, hammered, or featuring ornate designs, it can add tremendous appeal and visual interest. Similarly, copper and brass bring unique hues and the added benefit of an "evolving" design; as these metals age, their surfaces will often take on distinct patterns, striations and natural designs that become one-of-a-kind.
Accents
Furniture should bring in the same feel as natural wood elements. Think tweed, textured twill, and textured weave fabric in tan and nude shades. Black and metal hardware that matches your backsplash on cabinets and drawers will be a mini-reflection of those elements. Bring in light fixtures in a different but complimentary metal and fabric.
The design team at Kitchens Redefined will create the mid-century jewel that is a perfect fit for you!