Top 5 Things to Consider When Choosing Countertops
Wednesday, February 24, 2021
Top 5 Things to Consider When Choosing Countertops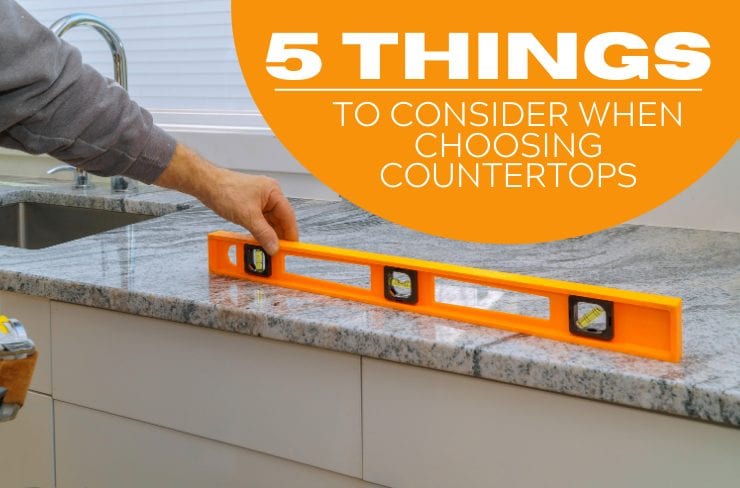 Countertops define the look and functionality of a kitchen. The color, material, and location of countertops is key when determining how a kitchen feels and how it functions. Whether you are considering a remodel, a refresh, or just countertop replacement, these countertop trends will help you pick the best option for your kitchen.
1.  Material
The first thing to consider is the material selection for your countertops. This will determine look, color selection, cost, and functionality. Thespruce.com looks at the Top Ten Materials for Kitchen Countertops.  
The most popular materials include granite, soapstone, wood, laminate, porcelain, and concrete. There are also new and exciting materials on the market such as recycled glass and zinc. Remember to consider the look, color options, and long-term maintenance when thinking about countertop material. 
2.  Countertop Color
White remains the most popular choice for countertop color. It may sound like one color category, but there are variations to explore within the white countertop world. White countertops can be heavily flecked, softly flecked, or pure white. There is also the option to mix and match a white palate. 
Wood is a timeless option. It can accommodate anything from rustic farmhouse to modern contemporary based on the type of wood and stain color. There are also "wood look" materials that give you a variety of options.   
Mid-tones can be your best friend. Soft, neutral tones can give you the lighter mood you want without a commitment to total white. Gray variations can allow you to go darker without a full commitment. They can also allow for a variety of cabinet tones without creating a stark contrast.
Dark countertops can be a timeless option. Darker granites have the advantage of being denser and less likely to absorb stains. Dark colors can make kitchen accessories pop and add some drama to your kitchen.  Architecturaldigest.com has 25 Black Countertops to Inspire Your Kitchen Renovation. 
Bold colors are the trickiest to navigate. Bold countertops can overwhelm a smaller space but can make a larger space warm and inviting. Make sure you will not fall out of love too quickly. You can incorporate bold colors with materials such as copper or wood to get the contrast a bold choice will need. 
Forbes.com explores 6 Kitchen Countertop Color Styles to Consider. 
3.  Mix & Match Surfaces
You may find that one color and material choice does not convey the look you want or all the functionality that you need in your kitchen. This is where a mix of color choices and materials can be a great option. 
You can consider using the bold tile look that you love for a back counter that does not get heavy use for food preparation. You can pick a complementary material for preparation areas and get the best of both worlds. No one wants tile lines in their pie dough. 
4.  Countertop Layout
Think about what you do in your kitchen and where you do it. You may have the need to add counter space to upgrade the functionality of your kitchen. If you find yourself carrying everything to your kitchen table so that you have enough room, you need more countertops. 
There are ways to add countertops without changing your existing layout.  Look for opportunities to shift your appliances so that you can add lower cabinets and additional countertops. You may be able to add an extension that gives you a peninsula. You may have room for an island.   
5.  Maintenance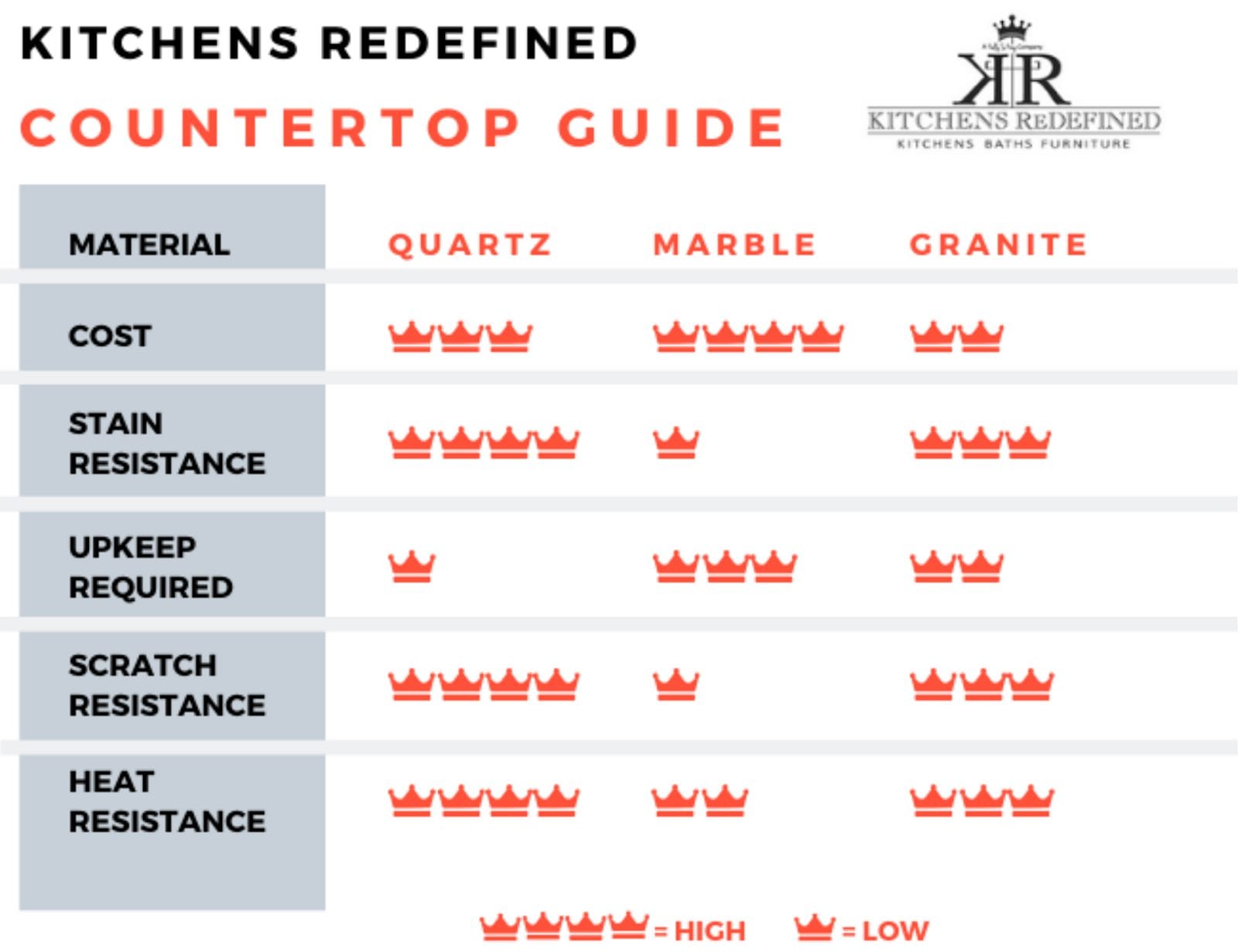 Be realistic about what will be required to maintain your countertops. You may love the look of marble but as someone who cooks every day, you need to seal it every 6 months. There are new and interesting low maintenance options available to explore. You want the look of your counters to last and stand up to use.  This can also be another opportunity to mix materials. Put a low maintenance option like soapstone or recycled glass in heavy prep areas and save the marble for the back counter. You can use our countertop guide as well.
Get an Instant Countertop Quote from Kitchens Redefined today and get the look you want with the functionality you need. Check out our countertop guide here!
Call today for your FREE consultation: (402) 505-3381 or simply click here!