Top 5 Trends for Bathrooms in 2021
Thursday, March 11, 2021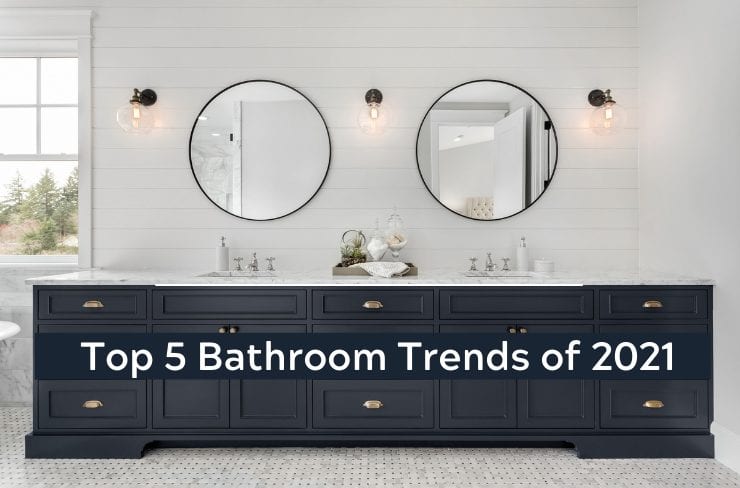 The bathroom should not be the room where design has been abandoned. It needs to be easy to clean. It needs to be functional. It does not need to be boring. There is opportunity to infuse personality in to even the smallest of bathrooms. You deserve to have the room where you practice self-care be a room that gives you positive thoughts. 
The bathroom is where you start your day and end your day. Lots of us experienced some big day-to-day changes in 2020. No matter when your day now starts and ends, your bathroom should help you start it happy and end it relaxed and ready to recharge. 
The bathroom design trends for 2021 are hitting every level of what you need right now. They also have something for everyone. It is all here. If you need to make a statement, see bright colors, get a back-to-nature spa vibe going, elevate your classic, or find the right tub, 2021 hears you.
Here are 5 hot trends for 2021 that will take your bathroom where you need it to be.  
Statement pieces 
Bold looks really can be incorporated into a bathroom. They can leave the living room and kitchen to breathe new life into your bathroom. Floating vanities are a perfect example of adding some drama to an element that is a bathroom staple. Storage can be durable art when it is decorative shelving. Lighting can be a visual element while still putting your best face forward. 
Pops of Color
Pops of color can be incorporated in a multitude of ways. Do not shy away just because a bathroom may be smaller. A bright red accent wall can stand out behind your mirror. Bold wallpaper patterns can be incorporated in key areas without overwhelming. Vanities can be aqua blue, sunny yellow, or emerald green. HGTV.com has 20 Bathroom Paint Color Ideas to offer inspiration.
Large Set Wall Tiles and Wood Look Floor Tiles
Wall tiles are expanding again. Large set tiles can make a design impact with minimum grout lines and less maintenance. Tile colors will move to neutral tones to display a softer, more natural look. Wood look floor tiles are a perfect compliment. They up the warm feeling without the stress of maintenance. Another bonus is the ability to add heat for a spa-like, no slippers needed experience.    
Playful Classic
Think colored subway tiles. Classic black and white floor tiles arranged in anything but a checkerboard pattern. Bring in softness by repurposing an outdoor rug as a statement in front of your tub, shower, or sink. Add lighting in the form of something unexpected like a classic chandelier. Take a traditional mirror and backlight it. 
Tubs
The stress of the last year cemented the need to soak away stress. Showers will stay larger so there is a focus on the space-saving soaker tub for those who need to free up space. Those who have space to spare can enjoy freestanding tubs with the good looks to be front and center. Soaking away stress is indeed timeless.
Get ready to pick the trend that speaks to you. Mix and match. You do not even have to pick. Use all 5! BHG.com offers  2021 Bathroom Design Trends That Will Be Huge This Year for more ways to incorporate the trends that will give you the self-care, happy place you need. 
Take the ideas you now have because of all this 2021 inspiration and use our bathroom visualizer to have Kitchens Redefined bring it to life!
Call today for your FREE consultation: (402) 505-3381 or simply click here!

https://www.hgtv.com/design/rooms/bathrooms/bathroom-paint-color-ideas-pictures
https://www.bhg.com/bathroom/remodeling/planning/2021-bath-trends/
https://kitchensredefined.quotekitchenandbath.com/visualizer#/visualizer