4 Kitchen Trends Worth Considering
Friday, October 15, 2021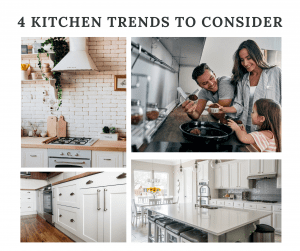 Trends come and go.
One of the definitions of trends is "fashion." The other one is "a general direction in which something is developing or changing." Fashion is fleeting, and that kind of trend should be used with things that can easily change with the latest and greatest. However, a trend that is developing over time as a design solution can be looked at for the long haul.
There are current trends in kitchen design that are worth considering as a part of any kitchen update. These trends reflect the way that we live now and, in turn, enhance not only the look of our kitchen but in many instances, the functionality as well.
Hidden appliances can make your kitchen more streamlined and create a high-end look. A large refrigerator or countertop appliance can draw the eye to it and make the space feel more cluttered. You can open up options by adding custom cabinets for tech devices to keep them hidden when not in use and out of harm's way when cooking.
This is also a great option to consider for several other reasons. You are freed from paying more money to get the latest finish on your appliance. You can more easily mix and match brands.   If you are remodeling but have perfectly good appliances that you want to keep, you do not have to replace them because they no longer go with your kitchen.
HGTV.com offers 20 Kitchens With Hidden Appliances for inspiration.
You do not have to sacrifice beauty for function when selecting your range hood. HGTV.com has 40 Stylish Kitchen Range Hoods that prove this to be a true statement.   Think about adding elements to your range hood that will turn it into a work of art.
Consider adding metallic trim. Think about using high-end materials like marble or quartz. You can use your hood as a way to incorporate bold color. Metals can convey glamour, modern, or even rustic farmhouse with the right selection and finish. You can even tile it to extend your backsplash look.    
Most of us get locked into the idea of upper cabinets in a kitchen. Cabinets tend to take up the majority of real estate in your kitchen. Getting away from the idea of traditional upper cabinets can give your kitchen an instant facelift and change the visual look of your space.
Open shelving is the most common alternative used in place of upper cabinets. It allows flexibility and shelving materials and designs are available for any type of kitchen décor. You also have a mix and match option. It is easy to incorporate among upper cabinets if you are not ready for a full change-up.
There are bolder alternatives to consider. Vintage lockers, Industrial metals, repurposed crates, and even free-standing vintage furniture can be used. You can also incorporate sliding frosted glass doors over open upper cabinets.
Every gathering at home always seems to end up in the kitchen. Rather than having everyone stand around a counter, why not have your kitchen serve as a second living room? You can incorporate functional stations for working, eating, relaxing, and entertaining.
Consider an open floor plan with visible zones. An island with seating and a wet bar can be used as an interactive space to cook, eat, and hang out. Comfortable seating will invite people to hang out until it is time to eat. Work stations can be built into cabinetry and hidden when not in use. They can serve as homework stations for kids as well.
When you are ready to tackle one of these trends, contact the experts at Kitchens Redefined and let us make it a reality!
Call us at 402-505-3381 or request a free design consultation nowrequest a free design consultation nowrequest a free design consultation now.