5 things to consider when upgrading your kitchen countertops
Thursday, March 26, 2020
Call today for your FREE consultation: (402) 505-3381
SCHEDULE YOUR FREE CONSULTATION TODAY
5 things to consider when upgrading your kitchen countertops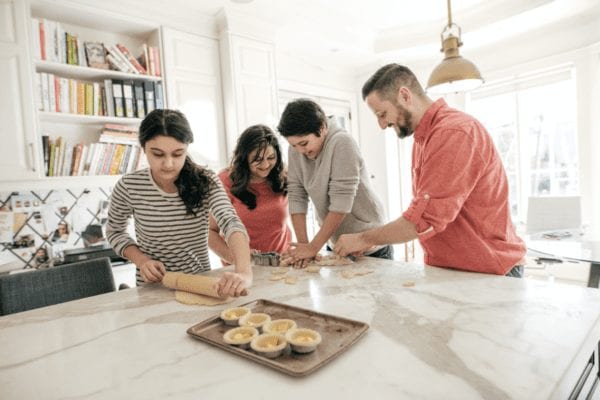 Kitchen Countertops
Every kitchen has its own personality
Whether it's sleek and modern or rustic and homey, a kitchen's design is a reflection of the homeowner's style and individuality. And countertops, which are often a focal point, carry a lot of weight when it comes to the room's charisma.
Every countertop has its own strengths and drawbacks. Materials, coloration, durability – there's a lot to unpack. You've browsed magazines, looked up reviews online, asked your friends and family, but still you can't decide. 
How do you choose the right countertops to suit your space?
While there are no right or wrong answers, here are a few key things to consider:
Price
This may seem obvious, but: Before you shop, know your budget. 
Consider the scope of your project. Are you only replacing countertops? What about cabinets? Hardware? Appliances? 
Having a budget in mind will help eliminate options you can't afford. This way you won't fall head-over-heels for countertops that are outside your budget. 
Or, if you find a must-have countertop that costs a bit more than you expected, knowing your budget in advance will help you decide what other amenities or appliances you could adjust or expend to accommodate the countertops of your dreams. 
Use our Instant Countertop Quote tool to compare styles and colors of our countertop options available and to see what works well with your taste and budget.
Looks
Bold and beautiful. Dark and moody.
Every countertop is a work of art. Take a good look at the material up close and in person if possible, using different lighting to get the full effect. Texture matters, too – this is one instance when you should absolutely touch before you buy.
Marble has that bright, smooth finish and unmistakable pattern. Granite has a gorgeous yet tough surface and comes in a variety of colors. And quartz offers a truly striking array of styles and patterns.
As an exclusive dealer of Cambria quartz countertops, take it from us: You have to see them to believe them. Cambria produces American-made, top-of-the-line quartz. The countertop choices are endless.
If you're interested in quartz, we recommend you start by taking a spin through Cambria's Design Palette.
Upkeep
Some materials are more high maintenance than others.
Marble, for example, is known for etching, or the formation of dull spots that can occur when acidic liquids are left on the surface for too long. Granite countertops may lack the brilliance of marble, but they're much less susceptible to everyday wear and tear.
Quartz, meanwhile, requires very little TLC – your normal cleaning routine should be more than enough for this durable stuff.
Cleanliness
It's what's on the inside – or not on the inside – that counts.
Some countertop surfaces are porous, meaning they are quicker to stain or retain water – and potentially harmful bacteria. 
Marble and granite require extra sealants to keep water and germs out, though modern sealing techniques make this less of a hassle than in days gone by. Quartz countertops are nonporous and nonabsorbent, so there's less worry about keeping them clean.
Longevity
And finally: How long does it last?
Any of our options are a better, longer-lasting investment than cheaper, laminate alternatives. Upgrading your kitchen countertops is a smart way to instantly add value to your home – and the longer they last, the more value it holds over time.
When it comes to durability, again, quartz comes out on top. Stronger even than granite, quartz can take a beating and remain shiny and beautiful for years to come.
Granite is a notable runner-up for strength. Marble is a more delicate option, though it's still much more durable than many cheaper alternatives.
Visit our Guide to Countertops to learn more about countertop surfaces. Another great tool is our Kitchen Visualizer. This allows you to virtually design a kitchen layout similar to yours by playing  with different cabinets, backsplashes, and countertop colors and styles from the comfort of your home. 
Are you ready to set up your free design consultation? Schedule it here.