7 Tiles and How They Work in Your Kitchen and Bathroom
Friday, July 15, 2022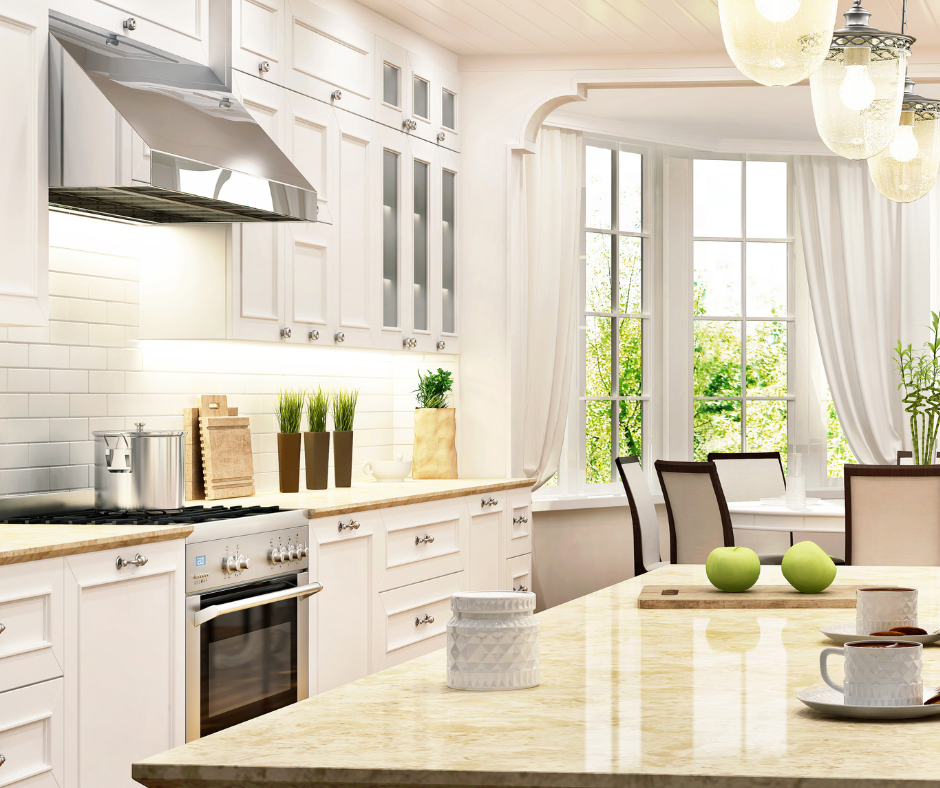 When you decide to remodel or refresh the kitchen or bathroom, it is a given that tile choices will come in to play. You may fall in love with the look of a tile, but not every type of tile works for every job. Before you get your heart set on something that may not work, use our guide to make an informed decision, save time, and avoid disappointment.
Ceramic Tile
Ceramic tiles are a mixture of clays and other natural materials, such as sand, quartz, and water. Ceramic tile is durable, making it perfect for kitchens and bathrooms. It is easy to install, clean, and comes in hundreds of styles that can fit any design. There are unglazed and glazed options. Unglazed tile gives an artistic, rustic finish while glazed tiles provide more protection for applications such as flooring.
Porcelain Tile
Porcelain tile is often seen as interchangeable with ceramic tile but there is a difference. It is denser, heavier, and more impervious to water. It also has the ability to emulate natural stone, brick, or wood without any of the maintenance. It comes in a variety of designs, colors, and styles and offers more design versatility than ceramic tile.  Applications for porcelain tile include bath or kitchen tile and kitchen backsplashes.
Thespruce.com has a Porcelain Tile vs. Ceramic Tile Comparison Guide for additional information.
Glass Tile
Glass tile offers a clean and minimalistic aesthetic. The stain resistance of glass makes it a fantastic alternative to natural stone. Glass will chip quite easily along the edges, so using glass tile in high-traffic areas like kitchen and bathroom floors should be avoided. Instead, consider this tile for a kitchen or bathroom backsplash.
HGTV.com has Glass Tile Backsplash Ideas for inspiration.
Marble Tile
Marble tiles add an instant touch of elegance and refinement. Laying down marble tiles immediately upgrades the space and delivers texture and depth with its varied patterns or veining, making each piece unique. It does require upkeep and is susceptible to scratches and stains in addition to being difficult to clean. Avoid using it as a countertop unless a sealant is applied. If it is unsealed, consider using it for decorative features, such as shower floors and backsplashes.
Mosaic Tile
Mosaic tiles give you a chance to flex your creative interior design muscles because it comes in so many different shapes, sizes, colors, styles, and even materials. Mosaic tiles work best on wall applications when an accent is needed. They should be used sparingly.  Depending on the type of tile you choose, mosaic tiles can look dated quickly. Keep that in mind as you select not just the tile, but the space where it will be installed.
Metal Tile
Metal tiles offer superior durability and a chic and modern aesthetic. It can be used for countertops and backsplashes. Although the cost for this type of tile is usually similar in pricing to natural stone, it will certainly withstand the test of time in both look and function. Metal tile does tend to scratch and develop a patina over time. If that is not your preferred finish, you should avoid metal tile.
Resin Tile
Resin tiles are a great solution to combine styles you want. These tiles look great and are water-resistant. 3D patterns are also popular with resin, and it can imitate the look of water and stones. Resin tile has a propensity to chip and yellow over time. Consider resin flooring for water areas like the bathroom. They also make great backsplashes and accent pieces.
The design team at Kitchens Redefined is ready to take your tile selections and integrate them into the perfect design for your kitchen or bathroom.