Bathroom Remodel: 4 Major Benefits
Wednesday, November 10, 2021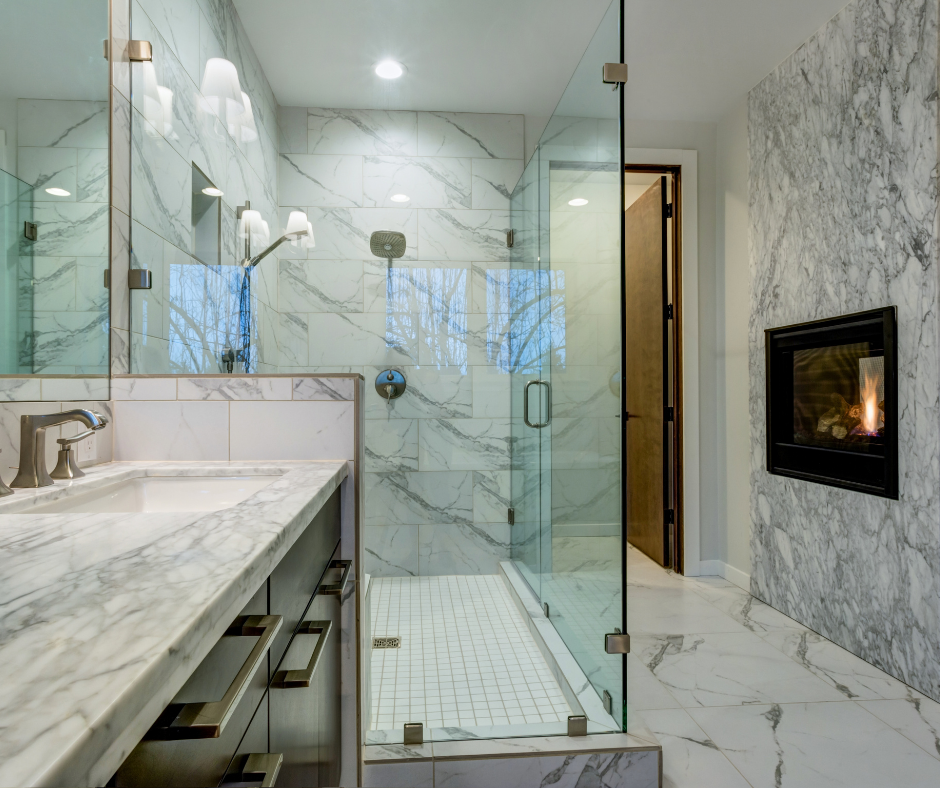 A bathroom remodel is a renovation that will give your home an instant facelift. Outdated bathrooms can impact your daily routine. If you are considering selling, an outdated bathroom can stop potential buyers in their tracks. Nothing will date your home more quickly than old tile, beat-up vanities, sad lighting, and no storage.  Not to mention, older homes tend to have more bathtubs than showers, and lacking the proper functionality in your bathroom can be a real deal-breaker.
Updating your bathroom will benefit you on a regular basis. Because the bathroom tends to be a smaller space, it also allows you to get creative and have some fun. Changes are much easier. It is a design space that welcomes some risk and can stand up to a trend or two.  HGTV.com offers a gallery of Bathroom Makeovers for inspiration as you envision your fresh new space.
Here are four major benefits a bathroom re-do can offer:
1) Increase your home's value
According to HGTV.com, a minor bathroom remodel gives you a 102% return at resale. A minor remodel encompasses replacing the tub, tile surround, floor, toilet, sink, vanity, and fixtures. You can finish off the project with a fresh coat of paint on the walls or consider a pop of color with wallpaper or funky tile. You can retain your bathroom footprint and still enjoy a significant design shift.
Southernliving.com has 2022 Bathroom Trends That'll Give Your Year a Fresh Start. They suggest rethinking your shower experience, including shower storage, going bold with color, incorporating technology, and trying new materials like terrazzo or large-format wall tiles.
2) Find your peaceful oasis
Most of us start our day in the bathroom. If the bathroom you walk into is a messy, unattractive space with old, substandard fixtures, you may start out on the wrong foot. Picture a change and make it happen. Most bathrooms have unused space in which to incorporate shelving, cabinets, and other forms of storage.
A bathroom renovation can mean unwinding in a claw-foot tub and drying off afterward with heated towels after a long day. You can choose colors and textures that will help you relax and soothe stress away, taking you to your happy place. You can use an innovative material for flooring because you have less space to cover.
3) Reduce clutter
Poorly designed bathrooms invite clutter. We have a lot of stuff in our bathroom, and we use it daily. Innovative storage that comes with a renovation can increase storage capacity with the smart designs available in today's cabinetry. You can finally find discreet homes for your towels, cleaners, toiletries, and medicines.
When you walk into your bathroom and everything has a space, you capture some of the serenity you experience at your favorite spa.
4) Become more eco-friendly
You can reclaim and repurpose an older porcelain sink, saving it from a landfill. Or you can buy new fixtures and materials from companies developing products that are energy-efficient, low-tox, biodegradable, and/or recyclable.
You can refinish your bathtub with an attractive, protective coating instead of entirely replacing it. You can paint your bathroom cabinet instead of sending it to the landfill and buying a new cabinet. Tile is a common floor and wall feature in bathrooms and there are currently tons of options that are eco-friendly. Consider bamboo, cork, natural plasters, or eco-friendly concrete.
If you are hesitant because of the cost of a bathroom remodel, Bhg.com has tips on How to Save Thousands of Dollars on Your Bathroom Remodel.  With planning and purpose, a bathroom remodel will be one of the easiest upgrades you can give your home.
Use Kitchens Redefined bathroom visualizer for inspiration and call us at 402-505-3381 or request a free design consultation nowrequest a free design consultation nowrequest a free design consultation now.