Finding Balance Between Beauty and Eco-Friendly Material
Thursday, December 2, 2021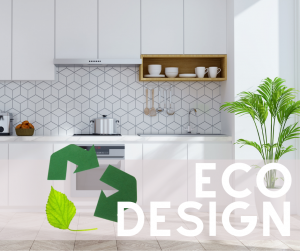 We put careful thought into what we want when we decide to update our home.
We consider cost, aesthetic, longevity, and versatility. Many of us have added environmental impact to our list. When considering a kitchen or bathroom remodel, the three things that can make the greatest impact to the environment are cabinets, countertops, and flooring.
Environmentally friendly materials are not just defined by what they consist of and where that material comes from. Other factors to consider are the ability to be renewed and recycled, responsible manufacturing, transport distance, maintenance, and life cycle.
Available options that check these boxes for eco-friendliness are expanding all of the time.
Cabinets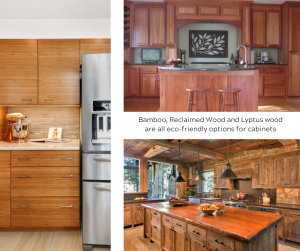 Materials to consider:
Bamboo
Lyptus wood (made from Eucalyptus)
Salvaged or reclaimed wood
FSC- and ESP-certified, and formaldehyde-free options.
Cabinetry is commonplace in kitchens, bathrooms, and often home offices and family rooms. But while durability, style, and color often dominate our selections, other factors to consider are the effects on indoor air quality and the sustainability of the materials. Bobvilla.com has a guide to what to look for in Eco-Friendly Cabinets.
The Kitchen Cabinet Manufacturers Association (KCMA) created the Environment Stewardship Program (ESP) to help manufacturers, consumers, designers, architects, and builders identify environmentally friendly products. More than 150 cabinet manufacturers carry an ESP seal, which recognizes companies meeting requirements of air quality, product resource management, process resource management, environmental stewardship, and community relations. Stock, semi-custom and custom cabinetry are all available with ESP certification.
Countertops
Materials to consider:
Recycled glass slab or glass tiles
Paper composite
FSC-certified wood
Bamboo
Reclaimed wood
We gravitate towards the conventional when we think about countertop replacement. While there is nothing wrong with traditional options, Thespruce.com has 5 Green Kitchen Countertop Alternatives to consider. Quarrying stone depletes natural resources and manufacturing engineered stone is not very eco-friendly.
If you want a very modern kitchen or one that is fit for an iron chef, give recycled aluminum counters a try. Look for counters that contain around 50 to 60 percent recycled material. Mining metal creates pollution, so choosing recycled aluminum is definitely an eco-friendly countertop option.
Flooring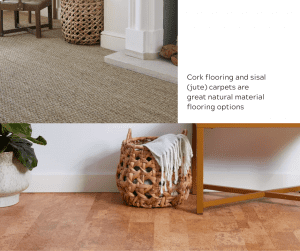 Materials to consider:
Bamboo
Cork
Hardwood
Linoleum
Eco-friendly carpeting made from natural materials such as wool, jute, and seagrass.
Eco-friendly flooring has diversified beyond just salvaged wood. Thespruce.com offers Cost-Effective Green Flooring Options. Bamboo has been the leader in alternative flooring material. It wins in the renewable category but a significant amount of can be created when it is imported. There have been other exciting options introduced into this space.
Hardwood flooring, while traditional, continues to be an eco-friendly option due to its longevity, renewability, and high ease of recycling. However, you have to make sure that the wood you choose comes from forests certified well-managed by the Forest Stewardship Council.
Salvage, or recycled, flooring is another great option. This can range from hardwood to recycled metal, tile, stone, and even glass. Metal tiles are manufactured from scrap pieces of aluminum, copper, or brass. Since this material is a finite resource that is not biodegradable, using it in a flooring application keeps it out of the landfill and preserves dwindling supplies of metallic substances.
You can mix and match any of these alternative materials to create a beautiful kitchen or bathroom that will also give your home a healthier, greener space. Whether your aesthetic is traditional, modern, shabby chic, or something all its own, you can find cabinets, countertops, and floors that honor the environment and deliver on looks.
The design experts at Kitchens Redefined are ready to explore eco-friendly options for your kitchen and bath with you! Call us at 402-505-3381 or request a free design consultation nowrequest a free design consultation nowrequest a free design consultation now.