Get the Look: Nautical Fresh
Sunday, February 27, 2022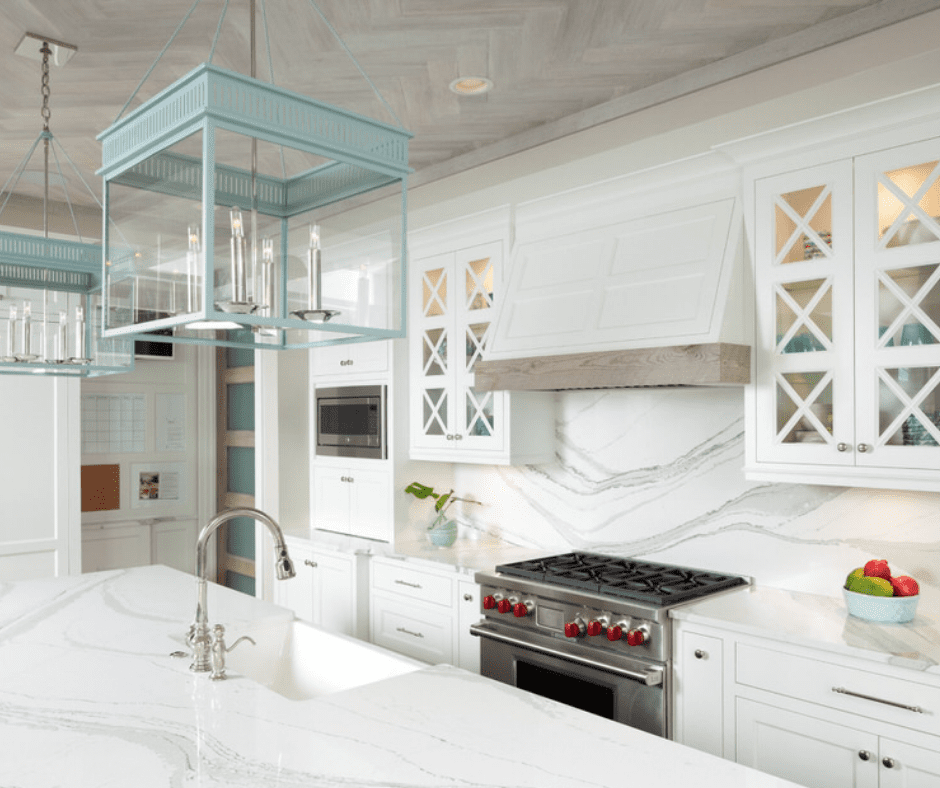 Get The Look Series:
Nautical Fresh
For the second style in our "Get the Look" series, we take a look at one of out favorite places in the world; the beach.
Nautical style decor is defined by natural colors associated with the ocean. It is often associated with beachfront or costal living, but it does not need to be limited to a certain geography. It had an "all the rage" moment in the eighties, but it has been reimagined and updated for now.
While Nautical decor can sometimes be too theme based, overdone and maybe even tacky, don't worry, we have stripped this aesthetic down to the basics of it's natural style and have brought it to life in a chic modern home.
Picture the neutral tones of stones, sand and driftwood paired with the brighter shades of the sea. Add accents that bring to mind the luxury of a yacht or the beauty of sea glass and driftwood. Translate this to your kitchen with the right choices in the right places and every day in it will be a day at the beach.
Crisp, White Cabinets
White cabinets are a natural fit for nautical fresh style. They will bring in the feel of wispy sea clouds and white sand beaches. A true, crisp white works best. One of the top cool white picks for decorators is Sherwin Williams Snowbound SW 7004. One of the top warm white picks is Benjamin Moore's Decorator's White CC-20. Shaker cabinets are a great style fit.
Consider incorporating glass front cabinets as well. Rather than using a clear glass front with panes, which leans to a traditional feel, use a full cabinet front in frosted glass or sea glass. You can use a double door on a kitchen island in frosted or sea glass to make a statement.
Sandy, Natural Countertops
Use natural stone countertops in a sandy beige tone to bring in the feeling of endless sand stretching out before you. Consider patterns that offer some shimmer and tonal variations that mirror the variations in natural elements.
Cambria Sandgate is a perfect choice. Cambria says that "True to its name, the cool whites and grays of Sandgate evoke the surface of a favorite childhood beach or treasured memory. Silver flecks glint enticingly." It made to be in a nautical fresh kitchen!
Yacht or Coastal Backsplash
The backsplash provides an opportunity to bring in the blues. The shade of blue and the type of material will define the nautical vibe you choose. This is the place to determine if your vibe is luxury yacht or coastal modern. The definition is in this detail.
You can go for a nautical navy subway tile or consider a navy and white stripe. You can go for a vintage nautical compass mosaic. This will put you on the yacht. You can consider shimmering sea glass in herringbone or mosaic patterns with varying shades of turquoise and sea blue. This will give you a coastal feel.
Shiny or Simple Hardware
The first thing that comes to mind when you visualize a yacht is brass. Thespruce.com offers 5 Ways to Accent Your Kitchen With Brass Details. Use polished brass cabinet and drawer pulls, brass faucets, and even a brass hood. Make a statement with brass lighting and bar stools.
If you are leaning less yacht and more boat, consider natural wood instead. Driftwood is available in a wide range of colors and styles. You can anything from find knobs and drawer pulls to incredible statement pieces like kitchen tables.
Accents
Incorporate nautical knots as subtle motif on furniture, maritime stripes on a rug, anchor motifs in art or on dishes, and classic maritime fixtures. This will compliment the theme without being too over the top. It allows you to mix and match with flexibility. You can easily change your maritime strip rug for a nautical knot pattern when the mood strikes.
The professional design team at Kitchens Redefined are ready to set sail and steer your nautical fresh design in the right direction.