Kitchen Storage Solutions You Need NOW!
Monday, May 18, 2020
Kitchen Storage Solutions You Need NOW!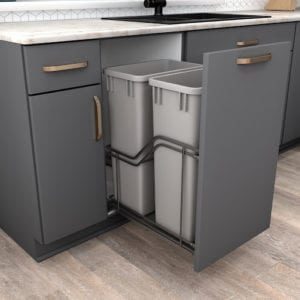 Kitchen Storage Solutions
The one place, aside from the garage, where you can never have enough storage solutions, is in the kitchen! 
The kitchen is more than just a place to prepare food, it's also considered the "center of activity" and referred to as "the heart and soul" of a home. It is essential to create a functional and sufficient kitchen with storage solutions to ensure organization. The last thing anyone wants is to feel stress in the number one gathering space in their home.
Better Homes & Gardens reported creative storage solutions being trendy add-ons in kitchen design for 2020. An astonishing 78% of homeowners renovating their kitchen are planning to include specialty storage in their new cabinetry.
Storage solutions help organize cabinets and store away those small appliances, food pantry items, utensils, glassware, food containers, cutting boards, baking sheets, pots and pans, and more. Adequate storage solutions will find a place for everything and have everything in its place, making everything you need accessible.
Pull out cabinet storage will maximize storage space for both lower and upper cabinets, as well as storage solutions for under the sink. How many expired items have you discovered in the back of your cabinets? With storage solutions, you'll have less waste and be more aware of what items you have to use.
Pull out cabinets can store away anything from appliances to food containers to pots and pans. According to Statista, 63% say the leading specialty kitchen storage solution is the pull-out waste or recycling cabinets! Pull-out cabinet storage will make it easier to find what you are looking for in less time and give you less sore backs! It will be life-changing, guaranteed! 
Aside from pull-out/ roll-out drawers, there are cabinet accessories that will help you avoid having a junk drawer! Cabinet accessories such as a kitchen drawer organizer assist you so you aren't struggling to fit your cooking utensils into the drawer and getting them jammed. They allow you to have the ability to further divide your drawers into a more organized space and keep appliances clean and tidy.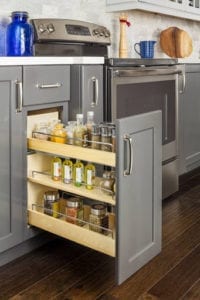 Kitchen Storage Solutions
A divided tray will be helpful for your cutlery as well as cabinet tray organizers for cutting boards and baking sheets. Lazy Susans will end your struggles of stuffed cabinets. According to Statista, 50% are looking to implement cooking sheet/tray organizers, 40% are looking to add revolving corner trays, and 40% are looking to add deep drawer organizers.
There are also narrow pull-outs that can be used for dish soap, scrub brushes, and hand towel storage. Designer Jennifer Gilmer of Jennifer Gilmer Kitchens & Bath Ltd., suggests including an under-counter beverage refrigerator, deep and shallow drawers, and even an extra prep sink to create a functional and stylish kitchen island.
With each kitchen being in a constant state of transition from meal to meal, you'll be grateful for the increased functionality from your uniquely redefined layout. By implementing storage solutions, you will instantly upgrade your life and kiss goodbye cluttered cabinets, messy shelves, and disorganized storage space. You will have a sense of ease knowing that everything is organized and has a home in your kitchen. 
According to owner of Kitchens Redefined, Kelly S. King, storage solutions are a popular upgrade or request with current kitchen remodels and renovations. If you are considering an upgrade to your kitchen, give us a call. As a one-stop-shop, Kitchens Redefined has the solution to all your kitchen needs.

Please contact us today for a FREE design consultation on your kitchen storage solutions!