Make a Splash With Your Backsplash!
Friday, June 10, 2022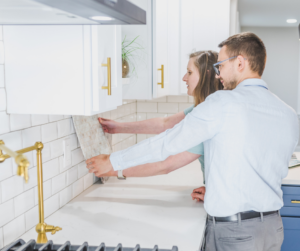 The backsplash is more than just that space above your countertops. It is the opportunity to flex your creative muscle and make your kitchen your own. Your backsplash can be a key focal point of your new kitchen design. A kitchen is not complete without the right backsplash. Kitchen backsplashes are not just critical for the wall protection they offer. They connect the entire kitchen design.
The Latest Trends
The latest styles for kitchen backsplashes range from larger versions of the classic standby subway tile to creative kitchen backsplash ideas such as zig-zag wallpaper. Taking the backsplash tile and extending it to the ceiling is also a popular option.  Thespruce.com has 7 Inspiring Solid Kitchen Backsplashes that expand the visual appeal of your space.
Another alternative to a tile backsplash is to extend the countertop material to the backsplash. You can have that same beautiful countertop you fell in love with extended to the backsplash. You can also opt for a mosaic tile that repeats the design of your kitchen island.
The Classic Comeback
Pattern-forming encaustic tiles continue to be popular. Instead of paint, these tiles feature assorted colors that are a part of the clays that they are comprised of.  They are designed to allow you to create a range of beautiful patterns.
Retro wallpaper designs are another option for a kitchen backsplash that offers a throwback feel while still looking fresh and stylish. For a vintage yet modern look, consider a mosaic backsplash in a colorful, abstract pattern or decorative mural. Another option is mosaic tile in a classic hexagonal honeycomb shape.
Making Sure It Fits
The right kitchen backsplash for you depends on your needs and the size and style of your kitchen. The best kitchen backsplash material for any kitchen will be durable and washable while enhancing the overall kitchen design. A bold and colorful tile backsplash, for example, can help create more visual space as well as ensure continuity with other design elements such as a kitchen island.
Size Matters
Most people want their small kitchens to look larger. The color and type of tile used can help visually expand the room. Generally speaking, lighter colors make a room look spacious. You can also try lighter, neutral colors such as off-white, cream, beige, or light grey. Or add just a hint of color with a pale blue, lemon, or apricot.
Your goals for a kitchen backsplash may vary for larger spaces, such as making the room feel cozier or, alternatively, accentuating details for maximum visual impact. Your choice of backsplash can create these effects and more.
Ceramic tile is a great material to use for a large kitchen backsplash because it is extremely versatile, easy to maintain, and often affordable. Porcelain tile, metal, and marble are also great options for a larger kitchen. You can also consider a mix and match approach to elevate the design element and create different visual zones. For example, you may want a more industrial feel in your cooking area and a more classic diner feel in your eating area.
The Latest Materials
The newest materials for kitchen backsplashes include eco-friendly options and tough, attractive laminates that come in all types of colors and styles. For an eco-friendly option, choose tile that has been recycled, such as glass tile or mosaic tile made from renewable materials.
Recycled backsplash tile is not the only green choice in backsplash trends. Some people build backsplashes made from recycled metals or even objects such as old music CDs. HGTV.com has a How To: Creating an Eco-Friendly Metal Backsplash.
Regardless of what you choose, the Kitchens Redefined professionals will make that space above your countertops into the backsplash that ties it all together!