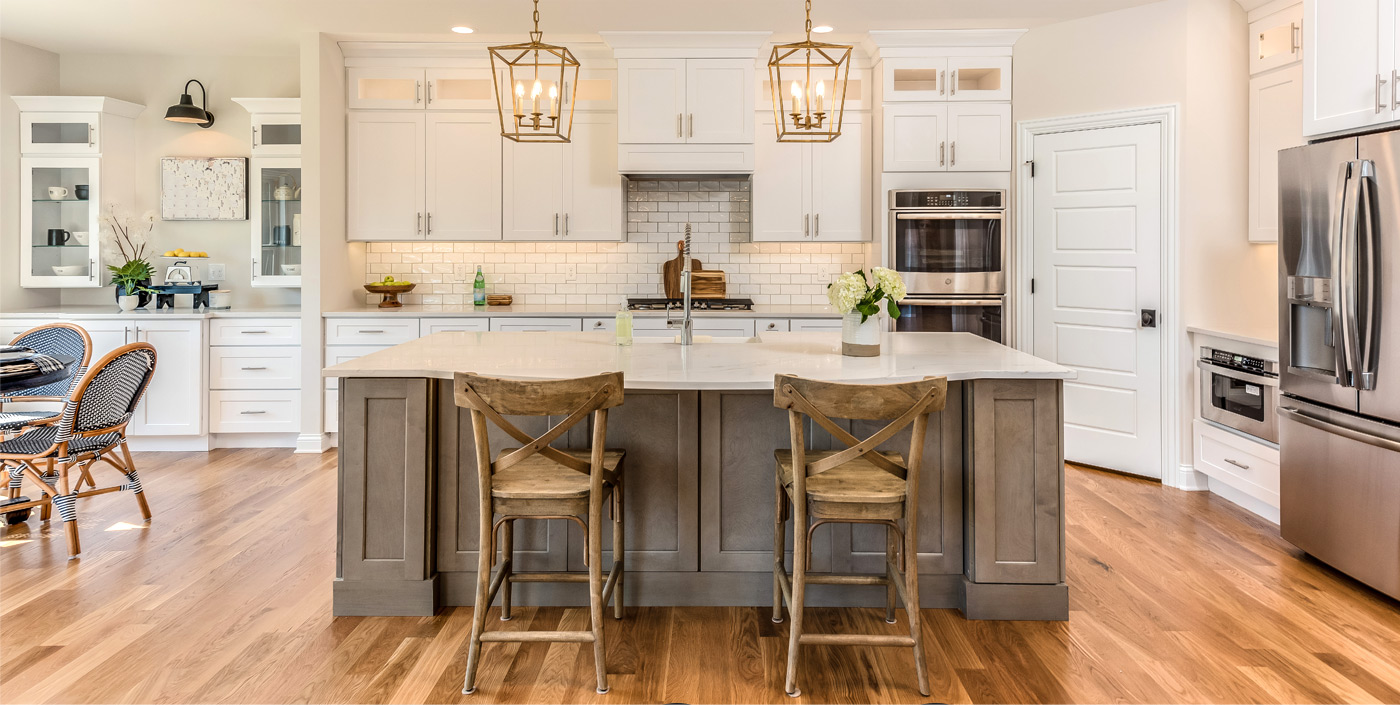 kitchen remodelers In Lincoln, NE
Kitchens Redefined is a company that specializes in kitchen remodeling in Lincoln, NE and surrounding areas. Our services give customers the satisfaction of a kitchen makeover, but without the need to gut their entire kitchen. Many don't realize, cabinet refacing, cabinet painting, cabinet refinishing and cabinet redooring can make your kitchen look like a whole new kitchen!
Kitchen Cabinet Remodeling: Refacing vs. Refinishing in Lincoln
Homeowners in Lincoln, NE ask us this question a lot when we talk to them about their kitchen makeover goals.
If your kitchen in Lincoln needs a makeover without the hassle and cost of a full renovation, consider updating your cabinets with Kitchens Redefined. You don't necessarily have to replace your kitchen cabinets entirely; you have the option of cabinet refacing or refinishing, both of which offer excellent solutions. To help you decide between the two for your Lincoln home, let's delve into the differences between kitchen cabinet refacing and refinishing.
Cabinet Refinishing
Cabinet refinishing involves retaining the existing cabinet components while changing the exterior color or finish after sanding or chemically stripping the current finish. While it may seem like a straightforward option, it might not be the right choice for everyone. For instance, refinishing won't work for cabinets made of laminate or thermofoil because these materials cannot be sanded or stripped.
Cabinet Refacing
In contrast, cabinet refacing is a versatile option suitable for kitchen cabinets made of any material. The refacing process preserves the existing cabinet boxes while allowing for the replacement of all other external components, including cabinet doors, drawer fronts, side panels, and even moldings. This flexibility means you can update not only the color and finish of your cabinets but also the hardware and other decorative elements. Additionally, the durable veneer applied to the boxes creates a seamless look, making your cabinets appear brand new.
Which Option is Right for You? Now that you understand the distinction between cabinet refinishing and refacing, it's time to decide which option best suits your needs. For most Lincoln homeowners looking to invest in their kitchen without a full-scale renovation, cabinet refacing offers superior benefits when compared to refinishing.
If you want to witness the transformative power of kitchen cabinet refacing in your Lincoln home, Kitchens Redefined is your go-to company. We specialize in cabinet refacing and other renovation solutions right here in Lincoln. You can trust us to turn your kitchen dreams into reality without the usual hassles associated with remodeling.
Cabinet repainting vs. cabinet refacing in lincoln, ne
If you're on the lookout for a convenient way to spruce up your kitchen's overall appearance without the complications of a full-scale room renovation, you've probably already considered enhancing your cabinets. In Lincoln, NE, there are two primary approaches to achieving this transformation: cabinet refacing and cabinet repainting. Before determining the best option for your Lincoln home, let's delve into the particulars of each:
Repainting Kitchen Cabinets Repainting kitchen cabinets involves precisely what the name suggests—giving your cabinets a fresh coat of paint. While this may seem like a simpler and more cost-effective route that allows you to select a new color or finish, there are several drawbacks that might lead you to explore other alternatives. Repainting doesn't address the underlying issues beneath the paint layer, meaning any pre-existing damage such as scratches, splinters, or general wear and tear may still be visible even after repainting.
Cabinet Refacing On the contrary, cabinet refacing is a more comprehensive process compared to repainting. It serves as an economical alternative to cabinet replacement. In essence, refacing entails preserving the existing cabinet boxes while replacing all external components, including doors, drawer fronts, moldings, and side panels. This approach provides greater creative freedom and delivers smoother, more harmonious results compared to a simple repainting job. When you partner with a company like Kitchens Redefined, you'll benefit from the application of a durable veneer coating on the cabinet boxes, ensuring a refined and long-lasting appearance.
Choosing the Right Option for You When it comes to evaluating cabinet refacing versus repainting, refacing emerges as the superior choice. If you've decided that cabinet refacing is the ideal solution for your kitchen cabinets in Lincoln, NE, it's time to enlist the expertise of Kitchens Redefined. Located in Omaha but with many clients served in Lincoln, NE. We specialize in cabinet refacing and offer a range of renovation solutions to bring your dream kitchen to life without the typical complications associated with remodeling.