The Kitchen Cabinet 3 R's: Redooring, Refacing, Refinishing
Friday, May 13, 2022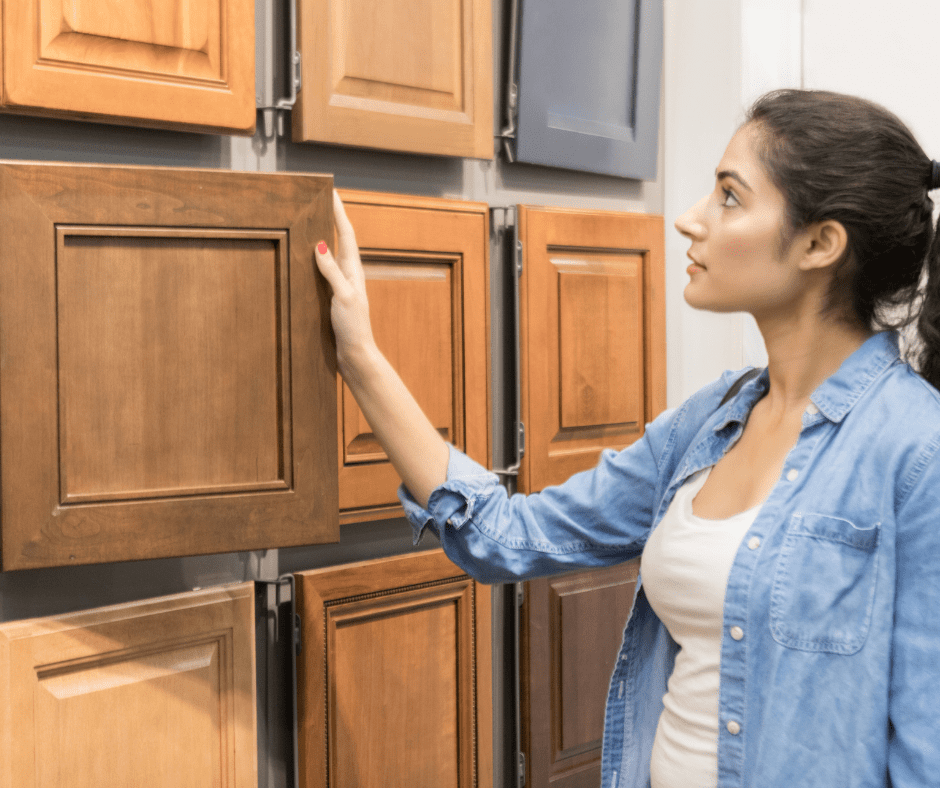 You have decided to refresh your kitchen. You love the layout and nothing major needs to be done, but you want to update the look. You know that your cabinets need some serious attention but the idea of ripping them out is making you hesitate. You are not up for a complicated remodel and takeout meals for months.
HGTV.com helps you determine what you should do with Cabinets: Should You Replace or Reface?
If you decide that you do not need to replace your existing cabinets, you are in the market for  resurfacing, refacing, or refinishing your current cabinets. These are  cost effective alternatives that make more sense for the environment, leave you with a working kitchen, are less of a hassle, and take less of your time. However, you need to understand the difference between these options so you know what is right for you.
REDOORING
Redooring kitchen cabinets is a process in which the existing cabinet framework is resurfaced with laminate or wood veneer replacement material.  You keep your existing cabinet boxes but replace all cabinet doors and drawer fronts with new ones. You can also replace cabinet side panels, face frames and moldings so that everything matches. This covers up blemishes and finish problems on your cabinets and allows you to change the wood, color, or door style for a clean and updated look. When resurfacing your kitchen cabinets you can even choose to install new hardware or crown molding.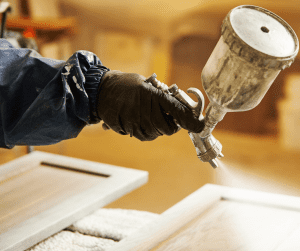 REFACING
Refacing is a word that is interchangeable with the term resurfacing, especially when it comes to cabinet makers and professional remodelers. It simply means that the face, meaning the front or visible surfaces are getting a facelift. Refacing is a little less drastic and more economical than resurfacing and can be done in a shorter time frame. Thespruce.com breaks the process down in Understanding Cabinet Refacing.
You pick out new doors and drawer fronts to replace the ones you have, and the existing cabinet boxes are covered with a veneer to match your new doors and drawers. There is a wide variety of colors and finishes to choose from. For those who want to update their kitchen look without changing the layout, this is a great option. Since the doors and drawer faces are being replaced, they don't have to be in mint condition.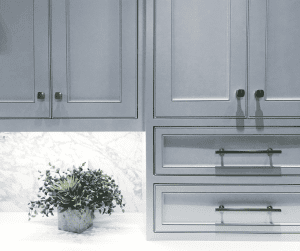 REFINISHING
There is a larger difference between resurfacing or refacing cabinets and refinishing cabinets. Kitchen cabinet refinishing means that you keep all components of your existing cabinetry and simply change the color or the finish. This is often done by hand sanding or chemically stripping the existing finish from the wood and then applying new paint or stain.
If your cabinets are in excellent condition and you love the style but the color is all wrong, refinishing is the choice for you. Refinishing is the most affordable option and usually the quickest way to bring life back into dated cabinets.  If your cabinets are made of laminate or thermofoil, refinishing is not an option. These materials cannot be sanded or stripped and it is nearly impossible for paint to stick.
Staining your wooden cabinets can give the illusion that they are any type of wood. Keep in mind that it is hard to go from a very dark to a very light color with stain. Painting is another option with no limit to color choices. You can even chose different colors. You may want light green upper cabinets and dark green lower cabinets, for example.
Kitchens Redefined has 30 years of experience in cabinet resurfacing, refacing, and refinishing. Our team of professionals can guide you to the right choice for your cabinet facelift! Contact us today!