Top 5 Gray Paint Colors for Kitchen Cabinets
Tuesday, April 28, 2020
Call today for your FREE consultation: (402) 505-3381
SCHEDULE YOUR FREE CONSULTATION TODAY
Top 5 Gray Paint Colors for Kitchen Cabinets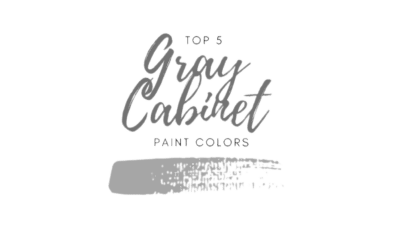 While white kitchen cabinets are still extremely popular, Kelly S. King and his design team are noticing more and more requests for gray kitchen cabinets! Gray is a cabinet color with unlimited options ranging from warm tones to blue hues.
With gray being an adaptable color with many shades of light and dark tones to choose from, it makes it easy "to pair with a variety of backsplash designs, countertop materials, and appliance finishes." – 6 Proven Tips for Choosing the Perfect Gray Kitchen Cabinet Colors.
The many shades of gray allow the color to coordinate well in "nearly all kitchen styles and cabinet designs…The rustic reclaimed wood look is perfect for channeling a modern farmhouse vibe, and the gray works well with the wood accents." – The Spruce
Warm gray tones tend to look better in "gold brass" hardware and cooler gray tones that have a bluish hue work best with "traditional stainless-steel" hardware, According to Better
Home & Gardens – 6 Proven Tips for Choosing the Perfect Gray Kitchen Cabinet Colors.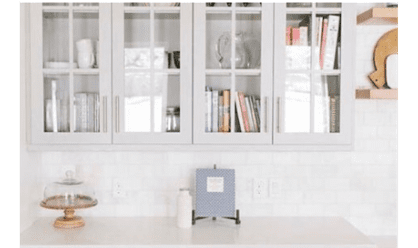 Luckily, for those who live in the Omaha Metro, Kitchens Redefined specializes in professional kitchen cabinet repainting. They take existing cabinetry and transform it with their beautiful foundation, designer, and custom finishes. With thousands of colors, glazes, and stains to choose from, each kitchen is a customized work of art.
Here are the top 5 gray paints in light to mid-tones, Kitchens Redefined recommends for kitchen cabinets:
1. Sherwin Williams Pussywillow #7643
According to Kitchens Redefined owner, Kelly, this is a top contender when picking consulting with homeowners and deciding on a gray paint color for all kitchen cabinets, including the island. This color is timeless.
2. Sherwin Williams Pavestone #7642
Pavestone can be best described as a 'greige' color (a combination of gray and beige) and definitely has a warmer tone. It is excellent for well-lit kitchens with natural light.
3. Sherwin Williams Dorian Gray #7017
"(Dorian Gray) Is the perfect warm neutral gray paint, and unlike so many other gray paint tones that lean towards blue undertones, Dorian Gray is a true warm gray. So if you want a true gray, that won't look blue, this is the right gray for you. It almost has a green undertone." – The Crazy Craft Lady Aimee – Sherwin Williams Dorian Gray SW 7017 – My Favorite Paint Colors
4. Benjamin Moore Gray Owl #2137
"An all-out unadorned approach for a modern kitchen." Gray Owl is one of Benjamin Moore's top favorite recommendations when it comes to deciding what color gray to use.
5. Benjamin Moore Gray Horse #2140-50
"This cool mid-tone gray goes anywhere, creating a space that's both stylish and restful. – Benjamin Moore.  If you have a smaller space, we recommend going for lighter gray cabinet shades and using dark gray shades in larger spaces or as an accent color with your kitchen island.
Many homeowners believe they can paint their kitchen cabinets on their own. Unfortunately, there are more horror stories that come from this than there are success stories. Kitchens Redefined has had to re-do many DIY painted cabinets due to paint cracking, chipping, peeling and more.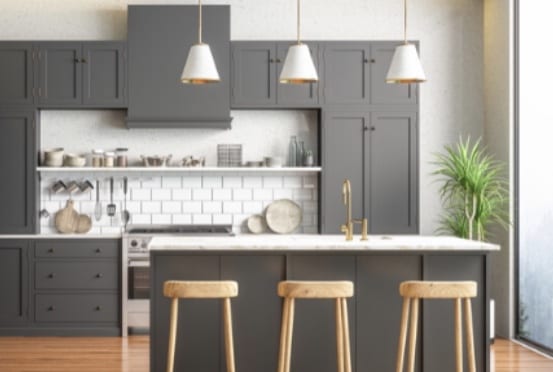 In the long run, hiring a professional like Kitchens Redefined will save you so much time, stress and money. The quality will last versus lasting a year or two max when you paint the cabinets yourselves.
The next time you are thinking about giving your kitchen cabinets a makeover, consider venturing off into something natural, balanced, and with depth such as gray kitchen cabinets. Kitchens Redefined can repaint any wood species such as oak, maple, or birch using our exclusive process to transform and repurpose your existing cabinets with durable, long-lasting finishes.
If your cabinets are in rough condition or you're in need of more than just an update by painting them, consider refacing or replacing them! Kitchens Redefined can reface your kitchen cabinets in the same gray tones and tear out and replace them with new cabinets in these same gray tones! We do it all.
Download our cabinet color guide here!
Ready to transform your kitchen? With Kitchens Redefined and these favorite paint colors, we will make your kitchen cabinets Pinterest-worthy! Schedule your FREE consultation today.