Get Your Kitchen Organized for Back to School
Thursday, August 19, 2021
Get Your Kitchen Organized for Back to School
Summer is quickly drawing to a close. Parents with school-age kids are starting to look ahead to the first days of school. Avoid the rocky mornings that can come with the sound of the alarm ringing through your house again with a kitchen that can handle breakfast and lunch on the go. 
Preparing now is the key to a smooth transition to accomplishing all of the necessary tasks you add during the school week before heading out the door. Thespruce.com has 13 DIY Ways to Get Organized for Back-To-School.  Now that you have a handle on calendars, chore charts, and school supply storage, it is time to tackle the kitchen. 
When it comes to school mornings, all roads lead to, and through, your kitchen. Some organizational additions and thoughtful rearranging will have you ready to start the new school year off on the right foot. Start your day with less fighting, stress, and rush and more time for breakfast and each other. 
These three steps will lead to organizational Straight As for every student in your family: 
1. Zone Out
Visualize the way the layout of your kitchen is used during the week. Picture your family in the kitchen in the morning. Establish clear zones for your breakfast and lunch needs. Consider what you use for prep, storage, and transporting.
Apply the same system that you would for an assembly line. Keep everything in proximity to each other and in easy reach. Establish a complimentary place in your refrigerator for cold items. Placement also may be determined by the level of independence of the child. If you have varying levels, make sure there is enough separation so that people are not tripping over each other. 
Consider multiple zones. Breakfast zones can include cereal and yogurt stations or a "grab and go" zone with fruit and bars. Older kids and adults may want a coffee station. You may want different zones for evening lunch packers versus morning packers.    
2. Think Height
You may have a high schooler and preschooler. You may have everything in-between. Kids at different levels of development have varying needs. It is hard to encourage your grade-schooler to pack their own lunch if things are out of reach.  If you have little ones that need a little extra help reaching countertops or cabinets, check out some solutions here.
Create low zones and high zones. Low zones can store lunch bags, containers, and food that can be grabbed with no work needed to help even preschoolers be independent. High zones work for older kids who do not need assistance preparing breakfast or lunch but can benefit from everything being in one place. 
3. Sight Lines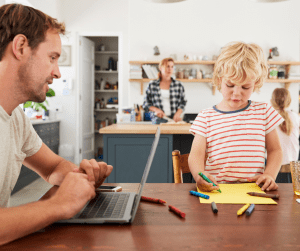 Think about what can be left "out" during the week to prevent food waste. Put fruit in bowls or baskets. Keep prepared vegetables in clear bins in the refrigerator.  Consider taking doors off cabinets or replacing solid doors with glass to see inventory at a glance. Thekitchn.com has 6 Ways to Prep Your Kitchen for Back-to-School Time to tie everything together.
Add even more organization with large kitchen islands or bar carts can keep things stocked and insight as well. The bonus that comes with mobility is that they can be stocked in the kitchen and rolled into other rooms to expand breakfast and lunch zones. You may have room to keep grab-and-go items by the door for those mornings when there is no time to get a full breakfast in or to pack a lunch. 
Whether you decide you need to rearrange, reorganize, or add something extra for the new school year, Kitchens Redefined has the expertise and product knowledge to take your kitchen from summer casual to back-to-school ready in no time.